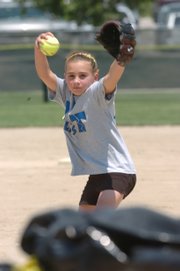 All around the Clinton Lake Softball Complex on Monday, the hot commodities were shade and team buttons during the opening day events of the American Fastpitch Association "B" - the lower of the association's two divisions - 2007 National Championship Tournament.
Teams from throughout the Midwest, as well as a team from North Salt Lake, Utah, were on hand for a multitude of skills contests ranging from pitching and hitting to defense and base-running before games begin today at CLSC, Youth Sports Inc., and Holcom Park.
After more than three hours of competition, the large gathering of over 100 teams in the 10-, 14- and 18-and-under divisions moved indoors to the Lied Center, where Mayor Sue Hack welcomed all the visitors before awards were handed out and each team was introduced.
"It's just a lot of fun," said Jessica Chelewski, a member of the 18-and-under Flames of Nebraska-Red Hot team from Kearney, Neb., who placed second in the pitching event. "The whole atmosphere is just really fun. You get to meet all these girls from all over."
Chelewski, who has been pitching since the age of 12, has been to a few national events and wasn't that overwhelmed.
However, Flames teammate Audrie Muller, who finished third in the hitting contest, was among many players who were making their first trips to nationals.
"I think they're a little star-struck at first," Flames coach Rick Buerer said. "The veterans are so calm and so collected, and the new ones are so excited and nervous. So it's a great balance. It's a great mix."
The Flames are in the same four-team pool as Lawrence Phenix-Rusk and will face off against each other at 8 p.m. Wednesday at CLSC in the teams' second game of pool play.
First, Phenix-Rusk must play its first pool-play game at 11 a.m. today at YSI.
Another Lawrence team in the 18-and-under division, Lawrence Phenix-Fyler, will start pool play today at 7 p.m. at YSI.
The Tonganoxie Braves are also in the field of 18-and-under teams, and their first game gets under way at 2:30 p.m. at YSI. Some of the players on the Braves team were a part of the 14U Braves team that won a national title in 2004.
Lawrence has three teams playing in the 14U division: Hummers, Magic and Phenix. All three will be playing at CLSC this afternoon.
The Phenix T's are the only Lawrence team competing in the 10-and-under division and kick off the tournament at 2:30 p.m. today at YSI.
Copyright 2018 The Lawrence Journal-World. All rights reserved. This material may not be published, broadcast, rewritten or redistributed. We strive to uphold our values for every story published.