Photo Gallery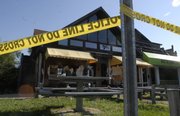 Body discovered at Yello Sub
Tragedy followed celebration early Monday, after a Lawrence man's body was found at a local sandwich shop.
The body of Justin Emmons, 34, a former employee of Yello Sub, 624 W. 12th St., was discovered about 6 a.m. Monday at the restaurant. More recently, Emmons had been general manager of Big 12 Burrito, which is tucked behind The Crossing, a bar two doors down from the Yello Sub. The store had closed for the summer and he was currently working at Marisco's and JB Stouts, family members said Monday night.
Police said late Monday that they were still trying to determine what happened to Emmons.
"A former employee was inside and gave us a call because he basically found someone in there who was deceased," said Lawrence police Capt. Ed Brunt.
The restaurant, which closed its doors Saturday, was the site of a party Sunday. On Monday morning, cigarette butts, beer bottles and plastic cups littered Yello Sub's front lawn. Blue spray-painted graffiti covered the outside wall facing Indiana Street.
About 2 a.m. Monday, police responded to a report of criminal damage to property. A can of paint apparently had been thrown through one of the restaurant's windows, police said.
Yello Sub owners decided to close the store because the property at 12th and Indiana streets is in the path of a new development, "Eldridge on the Hill," a seven-story residential and commercial project. Yello Sub employees said last week that they were notified that Saturday would be the sandwich shop's final day of operation.
Surveying the damage to the business Monday, Jeff Landes, 37, a former Yello Sub employee and Lawrence resident, said he considered Emmons a friend.
"I think he was probably as upset about (the closing) as the rest of us were," Landes said. "He was just always really friendly, happy to meet anybody."
Emmons' stepmother, Trish Emmons, said that he loved to kayak and "was always eager for adventure."
"He loved to tease and make everyone smile and give them a hard time," she said.
Yello Sub co-owner Jeff Klusman, who said the party was unauthorized, said employees told him that Emmons had been at the party earlier in the night but left.
"He left before the cops arrived," he said about the 2 a.m. arrival of police officers.
Klusman said he strongly believes that his former employee's death is unrelated to the party.
"I think (Emmons' death) happened after everyone was gone and the doors were locked," Klusman said.
Why Emmons returned to Yello Sub remains unclear, however.
Sean Hall, 18, who lives on Indiana Street across the street from the business, said he heard fireworks around 2 a.m.
"They were shooting fireworks off like it was a big finale to the end of Yello Sub," he said.
The party appeared to have cleared out by 3:30 a.m., Hall said. But while the party had dissipated, it was a later, louder noise that alarmed him.
Around 4 a.m., "I was laying in bed and I heard this really loud sound," the Kansas University sophomore said. "It wasn't fireworks, I knew that. I was very sure."
Lawrence police are continuing their investigation into the death.
Copyright 2018 The Lawrence Journal-World. All rights reserved. This material may not be published, broadcast, rewritten or redistributed. We strive to uphold our values for every story published.