Keith Cardin knows a thing or two about computers. Maybe too much.
While attending Crooms Academy in Seminole County, Fla., in 2006, Keith broke into his teachers' e-mail accounts and started sneaking electronic peeks at grades. He was helped by a device that spies on what people type on their keyboards.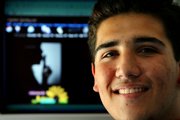 The sophistication of Keith's mischief is rare, but the broad category that schools label as "computer misuse" is not. Six counties in Florida together reported nearly 1,000 instances of computer misuse during the past school year. District technology specialists in Lawrence receive about 20 calls a year from the six secondary schools to deactivate accounts of students who have violated the acceptable use policy, says Paul Dawson, assistant director of information technology services.
The definition of computer misuse varies from one school district to the next. But generally it includes accessing networks or accounts without permission, modifying or destroying files, illegally copying software and viewing inappropriate sites.
Punishments run the gamut from counseling to suspension to criminal complaints.
In Keith's case, hacking got the 17-year-old expelled from Crooms, and his parents made the boy go to therapy for his "computer addiction."
Crooms Academy's principal, Connie Collins, said many students at the school feel pushed to compete for recognition through hacking.
"There is a desire to be recognized for the skill that they have," Collins said. "And here, you're just one of many students with that skill."
Typical abuses
Usually, Florida administrators say, students violate school policy by downloading the latest hip-hop video, listening to music or viewing erotic images.
"Most kids are just playing around, either looking at smut or videos," said George Grachis, Brevard County's information-security analyst. "They want to look at MySpace or other social sites."
Grachis said catching students in the act often involves a cat-and-mouse ploy. School officials use software to see whether videos are being downloaded, block sites such as MySpace and look for keywords that may lead to computer misuse.
Technology, however, moves at breakneck speed, so districts often find themselves falling behind.
"There's hundreds and hundreds of hacking tools out there," said Randy Wheeler, a manager of information services at Volusia County schools. "For every one you block, a new one pops up."
"It's a constantly moving target," says Dawson, of Lawrence. "One of the things that our network administrator likes to say is that China, which is really adamant about controlling where people go on the Internet ... even they have trouble doing it.
"There are various ways to get around the filtering. We try to block those, but again, it's a constantly moving target. That's also, in part, why we rely on classroom monitoring."
A responsibility
Thwarting computer scofflaws may be annoying and time-consuming, but schools have no choice.
"You can have the fear of what technology can bring in the classroom, but we have to make it available to students. I believe it plays a huge role in students' education," said Sherry Wells, principal of Ridge Community High, the first school in Polk County to go wireless.
So are attentive adult eyes, which can spot behaviors technology can't. "The key here is good supervision," said Wells. "A good instructor always moves around the room" to keep an eye on what students are doing.
Caught red-handed
That's not how Zack Mickler, a student at Eustis High in Lake County, got caught.
Zack, 16, was nabbed by the district's technology department with anti-virus software as he tried to download a hacking tool when he was a freshman. He was suspended for two weeks and lost his computer privileges for the remainder of the year.
Zack said he wanted to gain control of a computer remotely and make it do "funny things," such as turning it on and off.
"I was just immature, and I wanted to see what I could do," said Zack, who will be a junior this year. Stacy Mickler, Zack's mother, thinks her son was bored at his school, which she thought wasn't challenging him enough. But she swiftly punished him.
"He picked up garbage by the side of the road, and he got his computer taken away from his room for a month," Mickler said. "I don't know what a binary code is, but I do know he did something wrong."
It may have been wrong, but it may also have led to a new career path: Months after his suspension, Zack was offered a summer job by the school district's technology department.
"I wrote an apology letter, and I went in for a job interview. There were two guys sitting there, and one of them said, 'This is the guy that caught you."'
Glen Reubelt, technology manager at Lake County Schools, said Zack got the job because he meant no harm and his apology was sincere.
"I admired that he had the guts to apply for the job," Reubelt said. "He had a really, really strong interest in computers, and he never got in trouble again. He's been helping us since."
Copyright 2018 The Lawrence Journal-World. All rights reserved. This material may not be published, broadcast, rewritten or redistributed. We strive to uphold our values for every story published.