Three questions with ... Joe Spradlin about the MS ride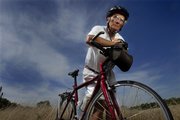 Crazy.
That's one word Lawrence resident Joe Spradlin uses to describe his decision to bike across the United States in 1995. His 36-day and approximately 2,500 mile trek took him from San Diego to St. Augustine, Fla.
Now, the 78-year-old is ready to embark on a slightly easier trek: the 150 mile, two-day Eastern Kansas Multiple Sclerosis Bike Ride. The fundraising ride, which is Sept. 22-23, will begin and end at Heartland Park in Topeka.
"To some degree, it's just a very nice, challenging ride," said Spradlin, who has done the MS race many times before.
He also does the ride because he has family members, friends and colleagues who have been diagnosed with the disease.
Multiple sclerosis affects the central nervous system and nerves' ability to conduct electrical impulses to the brain.
The tour will include the Flint Hills area, Clinton Lake area and the towns of Lawrence, Auburn, Eskridge, Harveyville, Burlingame, Scranton and Carbondale.
Spradlin picked up his bike-riding habit in the 1970s, as gasoline prices started to climb.
He usually raises about $2,000 for the MS society from friends and relatives. Altogether in 2006, the ride raised $160,000, and this year's goal is $175,000.
Spradlin, who prepares by riding 20 to 30 miles on "good weather" days, said the ride is very well-organized.
After this ride, Spradlin doesn't plan to stop pedaling. He would eventually like to ride on a 220-mile trail in Missouri.
"I'll quit when I die, or somehow I'm incapacitated and can't ride," he said.
Join the ride
For more information about the MS Bike Ride, go to www.msmidamerica.org and click on "Events."
Copyright 2018 The Lawrence Journal-World. All rights reserved. This material may not be published, broadcast, rewritten or redistributed. We strive to uphold our values for every story published.