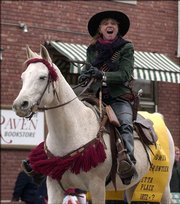 The Wild Women of the Frontier members play card games, defy the rules and shoot guns.
That's usually just when they are acting, though.
Calamity Jane, Poker Alice and Prairie Rose are just three of the ladies showcased by area women for schools, communities and festivals.
"A lot of women we represent, people have never heard of, and I think people enjoy learning about that," said Eileen Gronniger, the organization's vice president.
In 1996, a handful of women put together this nonprofit group that preserves the history of women in the 1800s and early 1900s. Now, they are looking to expand once again, and will put on tryouts Oct. 13.
Women interested in trying out should be comfortable on horseback, own a horse, be able to provide transportation and be able to attend a monthly meeting in Topeka as well as other practices.
Women who are chosen to be a part of the group will be able to research the frontier character they want to be and will come up with a costume.
The group has participated in activities such as the Lawrence Old-Fashioned Christmas and St. Patrick's Day parades as well as presenting the Kansas state quarter to Gov. Kathleen Sebelius. They have also traveled to Kentucky and Wyoming to perform.
"We are a very unique group," Gronniger said. "We've had conversations with people from all across the United States."
The deadline to sign up for auditions is Aug. 1, and there will be an informational social Sept. 8. For more information or to sign up for tryouts, contact Gronniger at (785) 741-4548 or egronniger@highlandcc.edu.
Copyright 2017 The Lawrence Journal-World. All rights reserved. This material may not be published, broadcast, rewritten or redistributed. We strive to uphold our values for every story published.