Photo Gallery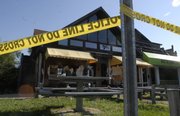 Body discovered at Yello Sub
Lawrence police this morning are investigating the discovery of a 34-year-old man's body at Yello Sub's campus location, 624 W. 12th.
They identified the man as Justin A. Emmons of Lawrence.
The business closed Saturday, and on Sunday a party was held at the building, which now has graffiti written on the outside and two windows broken.
A former employee of the business said he discovered the body. Capt. Ed Brunt of the police department said the body was discovered about 6:20 a.m. today.
The Yello Sub, along with other businesses at 12th and Oread, are the site of a planned hotel and retail development. Yello Sub's last day in business at the location was Saturday. Friday night, an employee said a party was planned there Sunday to mark the closing of the campus location.
Police said the cause of death was still under investigation
Copyright 2018 The Lawrence Journal-World. All rights reserved. This material may not be published, broadcast, rewritten or redistributed. We strive to uphold our values for every story published.