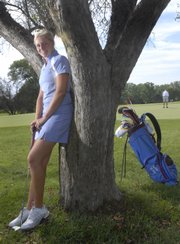 Take the strength, youth, and raw athletic ability of Kansas University women's golfer Sydney Wilson and blend those traits with the savvy and touch around the greens of former touring pro and long-time coach Ross Randall, and it's scary to imagine what kind of scores such a golfer would post.
That's the whole idea. That's why Wilson and Randall can be spotted together so often on the practice ranges and practice green at Alvamar Golf Course.
"What have I learned from Ross?" repeated Wilson, a Lawrence High graduate entering her second year at KU. "What haven't I learned? I've learned a lot of little tricks from him. He just has a way of making you look at things in a much simpler way."
Name one.
"Accelerate through my chip shots," she said. "I have a tendency to decel. When you do that, it's never good."
Name another.
"Focus on my shot when I'm about to hit it, then think about something else after I hit it, until it's time to focus again," Wilson said.
What does she do between shots to keep the pressure off?
"I sing a song," she said.
Randall sings Wilson's praises as a pupil.
Randall, who stepped aside and into a new role as director of golf at KU and handed the coaching reins to Kit Grove, is nearly as excited talking about Wilson as he is discussing former pupil Gary Woodland.
Wilson and Woodland share more than the same page in the telephone book. Both excelled in basketball in high school. Both are extremely long off the tee, and both could tighten their games by developing the sort of touch with a wedge Randall still displays after all these years.
"She's got great potential because she's so strong," Randall said. "She hits her drives 60 yards past me. ... A lot of the courses they play are 5,800 yards. As strong as she is, that means she's going to be hitting driver/wedge on a lot of holes."
There is nothing anybody can do to teach Randall how to regain the length of his youth off the tee. Developing a touch with a wedge, on the other hand, is something that can be learned and is the most enjoyable aspect of the game to practice.
Slowly, quietly, bit by bit, Wilson's game has been getting better.
Wilson, who red-shirted this past season at KU, won the Collegiate Players Tour event at Iron Valley Golf Club in Lebanon, Pa., during the last weekend in June. The tour is for college players who need to get more experience competing.
This past week, Wilson placed fifth in the Kansas Women's Amateur, finishing each of the final two rounds in 74 strokes.
It's not by accident that Wilson is improving. Ask a friend who spends any time at Alvamar Golf Course for the name of the person spotted most often at the practice green, and the answer is liable to be Sydney Wilson, the stylish golfer who spends even more time working on her chipping.
Copyright 2018 The Lawrence Journal-World. All rights reserved. This material may not be published, broadcast, rewritten or redistributed. We strive to uphold our values for every story published.