Three questions with ... Zachary Breitenstein
Photo Gallery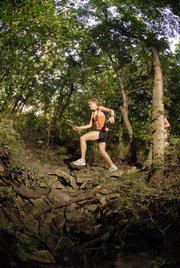 XTerra Stump Jumpin' Trail Race
After besting the other 10K female runners, Amy Van Gundy sported bloodied and bandaged knees, and her white jersey was dirty and torn.
"I tripped over something," she said. "There's so many rocks and stumps out there. One of them must have got me."
Such was the case at Saturday morning's Xterra Stump Jumpin' Trail Stomp at Clinton Lake State Park. Twenty-two runners competed in the 10K race, and 42 ran the subsequent 5K.
Van Gundy, a former Pittsburg State University athlete, fell twice during her race, but fellow runners helped her up both times, and she bounced back to finish eighth overall with a time of 41 minute, 26 seconds. The 23-year-old from Americus, however, did not seem to take much pride in her resiliency.
"It's more embarrassing than anything else," she said.
Former Free State High runner Danny Schneider, who participates in cross country and track at Kansas State University, notched the best time, a 32:39. He used the first lap to grow accustomed to the uneven footing and increased his speed on the final two.
"This is probably one of the roughest trails I've ever ran because there are so many rocks and roots sticking up and tree branches," Schneider said.
The rocky terrain forced runners to keep their eyes fixed on the ground. A gravel hill followed by a 90-degree, left-hand turn toward the end of each lap served as another obstacle.
"I didn't know it was going to be there on the first lap," said Zachary Breitenstein, a 30-year-old middle-school teacher from Kansas City, Mo., who finished fourth. "It was kind of surprising."
Their strong performances surprised Schneider and former Firebird Paul Vandervelde, who finished second. They entered the race to train in a fun way rather than having an eye on first place.
"I don't think either one of us were in shape to race it," Schneider said. "We just kind of figured, use it as a workout and see where we can go from there."
Marvin Mastin, 41, won the 5K in 24:31. After crouching to gather his breath, he cheered on his father, 66-year-old Ron Mastin, who posted a 31:47 for 15th place.
Because Marvin lives in Prairie Village and Ron resides in Georgia, the two only see each other about twice a year. Marvin usually runs longer trails, but participated in the 5K so he could compete with his father, who never had run an off-road race.
"It's a good shared thing that we do," Marvin said. "We have very few experiences together."
Marvin, a home remodeler and stay-at-home father, said he won the two-lap jaunt by pacing himself.
"I was running my own race," he said. "Some of those young guys took off pretty fast, and I just kind of stuck to what I was gonna do."
The father-son duo also plans to participate in April's Boston Marathon. Neither will strive for a certain time or place but will enjoy a much steadier footing there.
"It's a whole different rhythm, being on the trails," Marvin said.
Copyright 2018 The Lawrence Journal-World. All rights reserved. This material may not be published, broadcast, rewritten or redistributed. We strive to uphold our values for every story published.