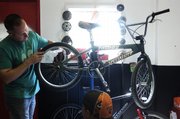 When Brian Shay, of Lenexa, was fired as an auto mechanic four years ago, he decided to take matters into his own garage.
"I decided I would never work for someone else again," he said.
He took his mechanic skills and created a business out of repairing cars and buying and selling used bicycles and motorcycles from his home. It proved successful enough that he decided to open a used bicycle shop, The Re-Cyclery, 315 N. Second St.
"Bikes are smaller and less expensive," he said. "I find myself busting my knuckles less."
He's five weeks into his business tucked between Village Witch and The Gaslight near the Kansas River bridge.
"I always wanted to have my own retail business," Shay said. "I thought, Lawrence is a good town and it's in a good vicinity to Kansas City. A lot more people ride bikes here than K.C.; everything's close."
Shay said he plans to move to Lawrence soon.
He's already had a steady stream of business. He sold 73 bikes in the five weeks his store has been open, he said. He said he's had about 10 visitors a day who know about the shop just from his post on Craigslist.com, a nationwide classifiedservice for urban cities.
About two weeks ago Kate Petry, of Lawrence, discovered the shop on CraigsList when she was looking for inexpensive recreation equipment.
"Someone said they found good stuff (here)," she said.
She said the store was a great idea and may serve college students well.
"Kids want cheap stuff," she said.
Shay buys bikes locally, he said. Children and adults can find anything from a $10 Huffy to a $700 Cannondale. He scopes out flea markets, state sales, auctions and garage sales. He also buys new bikes and parts on eBay. He's currently selling more than he's buying, he said.
His average tune-up rate is $40.
Justin Montgomery, 25, of Wellsville, is in the market for an inexpensive "starter bike" to trail ride, he said.
Instead of window shopping at other local stores for a $1,000 bike, he said he'd take one for $125.
"I don't care that there's rust on it," he said. "I don't want something brand-new."
Shay also sells skateboards. A board with grip tape costs $35.
"The cheapest place in town," he said.
Shay said he'd also like to place about 10 of his bikes on the Kansas University campus for students to ride on Jayhawk Boulevard. He said he would spray paint them all yellow, hoping the flashy color and honor system would prevent theft. If the university allows and if it proves successful, he would provide more.
Copyright 2018 The Lawrence Journal-World. All rights reserved. This material may not be published, broadcast, rewritten or redistributed. We strive to uphold our values for every story published.