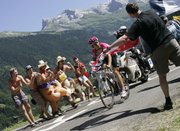 Tour de France glance
Le Grand-Bornand, France (ap) - A brief look at the seventh stage of the Tour de France on Saturday:
Stage: A 123-mile ride from Bourg-en-Bresse to Le Grand-Bornand featuring the first category 1 climb of the race up La Colombiere Pass.
Winner: Linus Gerdemann, a 24-year-old German rider with T-Mobile competing in his first Tour. Spanish riders Inigo Landaluze and David de la Fuente finished in second and third place respectively.
Yellow Jersey: Gerdemann wears yellow 10 years to the day after countryman Jan Ullrich wore it for the first time in his career. Fabian Cancellara of Team CSC lost the jersey having worn it since winning London's opening prologue on July 7.
Quote of the Day: "I think many teams realize that's not the way anymore, the old-school way." - Gerdemann, speaking out against doping. T-Mobile has put a rigorous anti-doping program in place within the team.
Le Grand-Bornand, France — Linus Gerdemann hadn't even finished celebrating his first Tour de France stage victory before sounding a loud drumbeat from the winner's circle: Races can and should be won clean.
The 24-year-old German, riding in his first Tour, captured the leader's yellow jersey as cycling's premiere event entered three days in the Alps with Saturday's seventh stage.
Gerdemann's T-Mobile team has been scarred more than most over doping revelations, and has responded in the past year by enacting some of the toughest anti-doping policies in the sport.
Gerdemann clocked 4 hours, 53 minutes, 13 seconds. Inigo Landaluze of Spain was second, 46 seconds back. David de la Fuente of Spain was third, 1:39 back.
Overall, Gerdemann leads Landaluze by 1:24 and De La Fuente by 2:45, and will don the yellow jersey today for the second of three punishing Alpine rides. The 102.5-mile stage from Le Grand Bornand to Tignes features six climbs - including an uphill finish.
Gerdemann is the second rider to don the yellow jersey this year, after Swiss rider Fabian Cancellara held it for the first eight days. Cancellara finished 22:27 behind on Saturday.
In post-race news conferences on Saturday, Gerdemann used the word "clean" at least six times. He spoke about blood tests he had undergone. He decried the harm done by doping in the sport, and said he understood fans have doubts.
"It's really hard for young riders to take the responsibility now," Gerdemann said. "But the sport gave a lot to me in the past - and now I think it's the right moment to give something back."
It was a fresh voice at an event where many riders and staffers refuse to discuss doping or get short-tempered even when the word comes up - saying they want to focus only on "the sport."
T-Mobile has sought publicly to stake out the high ground.
"I don't want to say that just T-Mobile is a clean team," Gerdemann said. "I think many, many teams realize that the old-school way is not the way anymore - but for sure, we have to show the way more and more."
The team's former star, 1997 Tour winner Jan Ullrich, was disqualified from racing on the eve of the start of last year's Tour after his name turned up in a Spanish blood-doping investigation. In recent months, several former riders from the Telekom team - as T-Mobile was formerly called - admitted to doping in the 1990s.
The team and Tour organizers are eager to hoist up young riders like Gerdemann as potential harbingers of a new era.
"It's the fresh air we were hoping for, with a team that has taken exemplary measures," Tour director Christian Prudhomme said.
The ride into the Alps has been expected to weed out the potential favorites in the three-week race, but two time trials and the Pyrenees also lurk down the road.
Gerdemann won by speeding out from a group of breakaway riders during the 123-mile ride from Bourg-en-Bresse to Le Grand-Bornand, featuring a winding ascent up La Colombiere Pass, the first category 1 climb this year.
After last year's climb of the 10-mile La Colombiere ascent, 2006 Tour winner Floyd Landis tested positive for synthetic testosterone after the 17th stage. An arbitration panel is deciding whether Landis should be allowed to keep his title.
Two pre-race favorites - Astana teammates Alexandre Vinokourov of Kazakhstan and Germany's Andreas Kloeden - made it through another day nursing injuries from crashes during a frenzied stage Thursday.
Copyright 2018 The Associated Press. All rights reserved. This material may not be published, broadcast, rewritten or redistributed. We strive to uphold our values for every story published.