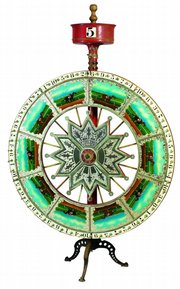 Current prices
Current prices are recorded from antiques shows, flea markets, sales and auctions throughout the United States. Prices vary in different locations because of local economic conditions.
¢ Disney Restaurant china mug, Walt Disney World Resort, Disney Resort logo, Mayer China Co., 1970s, 3 3/4 inches, $25.
¢ Texaco cheerleader advertising doll, red sweater, white skirt and boots, Texaco logo, 1960s, 11 1/2 inches, $120.
¢ Arts & Crafts ceramic chafing dish, wood and copper lid, copper stand and burner, marked "Rochester-1904," 14 1/2 inches, $145.
¢ Japanese porcelain charger, blue and white, Three Friends central medallion, partridge-eye ground, scrolling vines, c. 1835, 18 inches, $260.
¢ Map of Georgetown, "City of Washington," Johnson & Ward, c. 1863, 13-by-16 inches, $345.
¢ Carved oak trough, log form, fitted with legs, 1880s, 13-by-61-by-12 inches, $430.
¢ Snookums toy, comic-strip character, windup, spins, shakes, Germany, 1900s, 6 1/2 inches, $675.
¢ Aesthetic Movement handkerchief table, mahogany, swivel top, opens to felt-lined surface, drawer, Story & Triggs, London, 1875, 30-by-22 inches, $690.
¢ English silver cream pitcher, helmet form, punched bead border, strap handle, square base, George III, c. 1782, Hester Bateman, 5 1/2 inches, $805.
¢ Lenci Mary Pickford doll, brown eyes, coral mouth, center-parted blond wig, jointed, white organdy dress with pink squares, pink shoes, c. 1930, 19 inches, $2,350.
Folk art is art from everyday life that was made for entertainment or display, often by amateur artists. Collectors have focused on game boards, carousel figures, cigar-store Indians, tramp art and weathervanes. Prices for all of these are high, sometimes in the thousands of dollars. But some folk-art pieces from the late 1800s and early 1900s are still bargains and can be eye-catching decorations. Scarecrows, shooting-gallery and arcade games, sideshow and circus banners, unique store signs and imaginative homemade decorations for The Day of the Dead, Halloween or local celebrations can be important examples of folk art. Circus banners, especially for sideshow attractions, are the largest and most inventive. The banner was the ad that was meant draw you into the show, so exaggeration was expected. The bearded ladies, the world's largest snake, two-headed men, snake charmers and harem dancers were shown larger than life. Some banners are signed by the artist. Carnival games included targets shaped like people or landscape scenes; small, iron, animal-shaped shooting-gallery targets; soft, stuffed, legless dolls made to be hit by a ball; or wheels of chance. One wheel, by Mason & Co. of New Jersey in the early 1900s, was made of painted metal, glass and mirrored panels showing racehorses. Spin the wheel and the horses "run." This 8-foot wheel sold to a collector for $2,468.
Q: My grandmother left me a Mission oak desk, and I love it. But I'd like to learn something about the maker. It's not Stickley or Limbert, the famous makers of Mission furniture I have heard of. The label reads, "Cron Kills Co., Piqua, Ohio."
A: Andrew J. Cron (1852-1905) joined R.B. Kills to found Cron Kills Co. in Piqua in 1880. Before that, Cron had worked at another Piqua furniture-manufacturing company, L.C. & W.L. Cron Furniture Co. Cron Kills was still in business in the late 1940s. Mission (Arts & Crafts) furniture, with straight lines and a heavy look, was popular from the early 1900s to the mid-1920s. Your desk probably was made during this period. It's not as valuable as a desk by Stickley or Limbert, but it's a good piece of furniture.
Q: I recently purchased a matte blue-green Van Briggle vase that's shaped like a Viking ship. A matching flower frog fits inside. The vase is 6 1/4 inches long by 4 5/8 inches high. What can you tell me about it?
A: Van Briggle Pottery opened in 1901 and is still in business in Colorado Springs, Colo. Artus Van Briggle (1869-1904), an Ohio native, founded the pottery when he moved to Colorado for his health. Your vase and matching flower frog were not made until the 1940s. They're not rare or expensive.
Q: I found an old two-piece brass belt buckle in the attic floorboards of my century home about 35 years ago. There's a round "VR" cipher and crown in the center, which slides out from the larger part of the buckle. The larger part is a circle with the word "Militia" at the top. The mark on the back reads "Bent & Parker, Birmingham."
A: "VR" is the British royal cipher used by Queen Victoria. The initials stand for Victoria Regina. Bent & Parker made brass buckles and bracelets in Birmingham, England, around the turn of the 20th century. It is likely that your buckle once belonged to someone in a royal militia regiment in England. How it found its way into your attic floor is certainly a mystery.
Q: I have two "Paul Revere" bowls and would like to know if they're sterling silver or silver plate. One bowl is marked "Wilcox, International Silver Co.," and the other, "Reed and Barton" with a little chamberstick symbol.
A: The "Paul Revere bowl" is a classic shape based on the "Liberty Bowl" originally made by Paul Revere, the Revolutionary War patriot. Both of your bowls are plated silver, not sterling. Modern sterling-silver bowls made in the United States are marked with the word "sterling." Wilcox Silver Plate Co. of Meriden, Conn., became part of the International Silver Co. in 1898. After that, Wilcox pieces were marked both "Wilcox" and "IS." Reed & Barton, whose history can be traced back to 1824, used the chamberstick symbol as a date code for the year 1955. So that's the year your Reed & Barton bowl was made.
Q: The mark on dishes I inherited looks like "Haas & Cijick Schlagganwald." Who's that?
A: Your dishes were made by Haas & Czjzek, a porcelain factory that opened in 1867 in Schlaggenwald, Bohemia, in what was then Austria. The company was nationalized after World War II. It became an independent company in 1992 and is still operating in the same place, only now it is in the Czech Republic.
Tip: To remove coffee or tea stains from a cup, swish 2 tablespoons of vinegar in the cup, then wash.
¢The Kovels answer as many questions as possible through the column. By sending a letter with a question, you give full permission for use in the column or any other Kovel forum. Names and addresses will not be published. We cannot guarantee the return of any photograph, but if a stamped envelope is included, we will try. The volume of mail makes personal answers or appraisals impossible. Write to Kovels, (Lawrence Journal-World), King Features Syndicate, 300 W. 57th St., 15th Floor, New York, NY 10019.
Copyright 2018 The Lawrence Journal-World. All rights reserved. This material may not be published, broadcast, rewritten or redistributed. We strive to uphold our values for every story published.