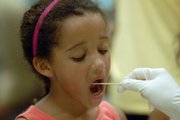 Marty Carr opened wide so Matt Sarna could stick a long cotton swab in his mouth.
"That was pretty painless, wasn't it?" Sarna asked.
Marty, 9, grinned back.
Sarna is no doctor: He's a Lawrence police officer.
Sarna put the cotton swab in a box and handed it to Julie Carr, Marty's mom.
She'll put it in her freezer, so if Marty happens to go missing, she can turn his DNA over to police.
"So if I get lost, they can find me," Marty said. "Anybody can get kidnapped."
"Let's hope it never happens, but it can," Julie Carr said. "It happened to that Kelsey (Smith) girl and how old is she?"
The police department's DNA Ident-A-Kid program was one of more than 40 booths at the fifth annual Health and Wellness Expo at TherapyWorks wellness center, 1112 W. Sixth St.
Marty went a few booths down, where he brushed the teeth of an animal puppet using an oversized toothbrush.
Meanwhile, a LifeStar helicopter touched down in the Lawrence Medical Plaza parking lot outside.
"They take you in here and take you to the doctor really quick," Neal Baughman explained to his 2-year-old son, Thomas.
"Cheese," drawled Thomas from his dad's arms, cueing his aunt, Carolee Baker, to snap a picture.
"I'm an airplane nut and trying to raise him to be one too," said Neal Baughman, of Osage City.
But, the expo wasn't only for children.
A variety of health, wellness and safety booths were set up between rows of treadmills and weight machines inside.
The wellness center, which has at least 700 members, uses the event as its yearly enrollment drive. But organizers also invite area doctors to provide free health screenings for attendees.
Reba Bennett, Lawrence, covered her right eye and read from a chart several feet across the room.
She discussed her vision with Lawrence optometrist Kevin Trummel.
"I do it more for the awareness" than to build my practice, he said.
Dena Johnston, TherapyWorks executive public relations and marketing director, said she started the expo five years ago, when as a pregnant woman she had trouble finding out where to get different health services in Lawrence.
She said it gives members of the community who otherwise wouldn't be able to afford it an opportunity to get screenings.
Nearly 500 people attended the event, which has grown every year, she said.
"The word is spreading," Johnston said.
Copyright 2018 The Lawrence Journal-World. All rights reserved. This material may not be published, broadcast, rewritten or redistributed. We strive to uphold our values for every story published.