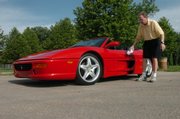 Ferrari owners have their priorities.
"Once they start talking about vehicles, everything else is secondary," said Maria Martin, a Lawrence resident and member of the Ferrari Club of America, Kansas City chapter.
Don and Maria Martin, owners of Southwest and More, 727 Mass., have a love for Ferraris. And they're hoping to spread their enthusiasm to others during the Kansas City chapter's Ferrari Car Show from 11 a.m. to 2 p.m. Sunday on Seventh Street, between Massachusetts and Vermont streets. The street will be closed for the event.
Because Lawrence doesn't have a Ferrari car club, people in the surrounding areas will be driving in, and anyone who owns a Ferrari is invited to participate.
Don Martin said people usually buy these cars for one of three reasons: to look at, stick in their garage or drive down the highway.
Whatever the reason, he said there's a mystique about them that makes people love them.
"Unlike most cars, people consider them a piece of art," he said.
The Martins' business and The Eldridge, co-sponsors for the show, are hoping to provide an event for the car club, while also bringing more people downtown.
"It's a way of promoting the car show, but also to invite the community to come downtown, see these cars and walk around our wonderful community," said Maria Martin.
Don Martin said he'd like to have more car shows in Lawrence.
If it rains, or if rain is threatening, the event will be canceled.
Copyright 2018 The Lawrence Journal-World. All rights reserved. This material may not be published, broadcast, rewritten or redistributed. We strive to uphold our values for every story published.