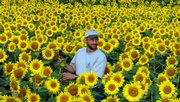 If you've never seen a field of sunflowers in person, you must put it on your list of "things to do before you die."
Visitors welcome
Ted Grinter grows about 25 acres of sunflowers each year on his land in Reno (between Lawrence and Tonganoxie in Leavenworth County, right off U.S. Highway 24-40). The flowers generally put on their show in September, and Grinter welcomes visitors to snap pictures and take a flower home. For more information, call Grinter at 749-1325.
With their bold heads that look like the sun in the sky, the flowers have inspired artists such as Van Gogh, Monet and O'Keefe to immortalize them on canvas. Our family opted for photographs of the beauties. We snapped them in a sunflower field in France, where human heads were poking up between maize-colored, dinner plate-sized blooms.
But you need not travel across a sea to witness these waves of land-locked color. You're smack dab in the middle of sunflower country.
Doug Davison, owner of Vinland Valley Nursery, has a similar exuberance for our state flower.
"To see the huge fields blooming is a stunning sight for people and really hits them at an emotional level," he says. "It is a native of North America, which makes it an easy plant to grow here."
Kansas connection
Although Kansas is the Sunflower State, boasting regal fields of the blooms, we actually rank third in production, after North and South Dakota, according to the U.S. Department of Agriculture.
American Indians were cultivating sunflowers around 3,000 B.C. In fact, many archaeologists suggest that sunflowers were domesticated before corn.
There are more than 60 species of sunflowers, 11 of which are grown here in Kansas. Most of the varieties that bloom here are perennials that begin flowering now and continue well into September.
We've even named the state's highest point - at 4,039 feet - Mount Sunflower.
Rapid riser
Sunflowers love heat - so much so that, in the bud stage, their giant heads follow the sun's movements, rotating their faces as the day wears on. This phenomenon is known as heliotropism. (Once the flower is fully open, however, it faces east, according to the National Sunflower Association. This is likely a defense mechanism, as facing south or west could result in seeds becoming sun-scalded on very hot days.)
In return for their heat craving, sunflowers grow at an alarming rate - sometimes 8-12 feet tall within a six-month period - and many only require 90-100 days from planting to maturity. The tallest sunflower on record grew to be about 25 feet, 5 1/2 inches tall in the Netherlands, and the head of a sunflower can reach a whopping 2 feet across.
Even so, these babies need not be the gangly red-headed cousin kept in the back of your garden border. Even small gardens can support the wonderful new dwarf varieties. And sunflowers now come in an array colors as well, from burgundy, chocolate and peach to orange and even vanilla.
When planted in the garden, they're sure to attract birds and pollinators. Hive bees obtain prolific amounts of wax and nectar from sunflowers, and butterflies appreciate their wide landing space and abundance of nectar.
"It is no wonder they are attractive to people and animals with their bright, showy, cheery flowers," says Ward Upham, a horticulturist with K-State Research and Extension in Manhattan. "What is there not to be begging all of us to take a closer inspection?"
Astonishing anatomy
Davison, of Vinland Valley Nursery, points out that the sunflower is multi-dimensional, producing seeds and oil, as well as converting the sun's energy.
"It is just a little powerhouse of a flower," he says.
The sunflower also has a most interesting anatomy. An individual specimen is not actually one flower, but rather a cluster of more than 2,000 tiny florets growing together.
When looking at a sunflower with the naked eye, you see two distinct parts: the ray and the disk. The ray florets appear around the edge of the flower, while the disk florets occupy the center. Disk flowers are both male and female and the only fertile part of the plant. The disk flowers grow in one of the more mesmerizing patterns found in nature, flowing in two opposite spirals.
While a sunflower might seem a bit foreboding, with its hairy stems, those bristles actually provide a couple of great services: They discourage plant-eating animals and conserve water by limiting evaporation.
Sunflowers have a slew of fabulous uses, are easy to grow and utterly beautiful. Davison get particularly excited for the Vinland Fair that takes place each August.
"People are constantly coming up with new sunflowers when you go check out the flower-judging contest," he says. "Inevitably, one of them is a huge monster of a bloom."
Copyright 2018 The Lawrence Journal-World. All rights reserved. This material may not be published, broadcast, rewritten or redistributed. We strive to uphold our values for every story published.