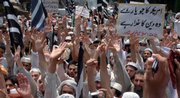 Washington — Calling al-Qaida the most potent terrorist threat to U.S. national security, the classified draft makes clear that the Bush administration has been unable to cripple Osama bin Laden and the violent terror movement he founded.
The report is known as a National Intelligence Estimate, which is the highest level analysis produced by the U.S. intelligence community for the president and Congress. It represents the consensus of all 16 U.S. intelligence agencies.
These conclusions were reflected in an unclassified report on global threats to U.S. security delivered Wednesday to the House Armed Services Committee, said U.S. officials, who spoke anonymously due to the intelligence issues involved.
Al-Qaida's core leadership - a reference to bin Laden and his top aide, Ayman al-Zawahri - is increasingly directing global terrorist operations from a haven in Pakistan's lawless tribal areas bordering Afghanistan, officials from the CIA, Defense Intelligence Agency and the Office of the Director of National Intelligence said in presenting the unclassified report.
"We actually see the al-Qaida central being resurgent in their role in planning operations. They seem to be fairly well-settled into the safe haven and the ungoverned spaces of Pakistan there," John Kringen, the CIA's director for intelligence, said.
"We see more training, we see more money, and we see more communications," Kringen said.
The U.S. intelligence community's assessment of the al-Qaida threat comes as more bad news for President Bush.
Bush has repeatedly tried to cast the increasingly unpopular war in Iraq as part of the struggle against worldwide terrorism.
But many of the government's own counterterrorism analysts say the Iraq war has fueled anti-Western militancy and served as recruitment aid for bin Laden and like-minded Islamic extremists.
Over the last two weeks, Bush has cited the violence in Iraq perpetrated by a group calling itself al-Qaida in Iraq. But that group wasn't present in Iraq before the March 2003 U.S. invasion, and there is no evidence it is under the control of bin Laden or his lieutenants.
The intelligence analysts also stated in their congressional testimony - more bluntly than officials have before - that bin Laden and his closest aides are in Pakistan.
It was unclear whether the remarks reflected new intelligence data on the terrorist leader's location.
Copyright 2018 The Lawrence Journal-World. All rights reserved. This material may not be published, broadcast, rewritten or redistributed. We strive to uphold our values for every story published.