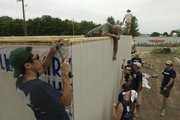 Jerrod Dolenz says he doesn't believe he is experienced at building houses.
His volunteer resume would suggest otherwise. So far he's helped build three homes for Habitat for Humanity, and now he is on a summerlong bicycle tour, making stops to help build more homes.
"I've already learned a lot more (on this tour)," said Dolenz, who is from Iola and will start his junior year at Boston University this fall.
Dolenz, along with the organization Bike and Build, is working with the Lawrence Habitat for Humanity chapter to build a home for North Lawrence resident Serenity Walters and her son.
The bike trip began June 11 in Providence, R.I., and it will end Aug. 16 in San Francisco. The three-day building work in Lawrence is the group's longest stay in any one city. The group won't finish the home on its stop, but it will be able to build a significant portion of the home. They are hoping the house is completed by the end of the year by other volunteers.
Dolenz said the trip is a rewarding experience, but the crew has faced difficulties.
"It's gone from extreme to extreme," he said. "We'll have a happy experience and then a low one."
Dolenz said one of those bad experiences was when a rider fell off his bike and was unresponsive for a short time.
"On days like that, you want to be at home," he said.
One of the best parts of the trip, though, was staying in churches and meeting new people.
"Every place is hospitable," he said. "You feel like you are a guest to the whole community."
To prepare for the trip, each individual had to raise $4,000 and complete at least eight hours of home building. The money they raised will help pay for the trip, and it will fully fund a house in Providence.
The organization Bike and Build, which is composed of 18- to 25-year-olds from throughout the nation, has six routes it's taking this summer. This is the second year one of the routes has stopped in Lawrence.
"To see a group come together from all over the country that shares the same values we do is incredible," said Jeremy Hahn, executive director for Lawrence's Habitat for Humanity.
Hahn said his organization is still looking for sponsors for the eight other homes they would like to build in the city's Comfort Neighborhood.
After the Bike and Build members leave Lawrence, the group will ride to Wamego, Concordia and Lebanon, Kan.
Copyright 2018 The Lawrence Journal-World. All rights reserved. This material may not be published, broadcast, rewritten or redistributed. We strive to uphold our values for every story published.