Photo Gallery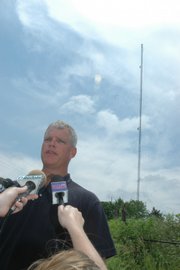 Tower accident
Investigators are trying to determine what caused two workers to fall hundreds of feet to their deaths from a communications tower Tuesday in rural Douglas County.
Around 9:30 a.m. Tuesday, the two men were installing telecommunications equipment on the 1,000-foot tower near East 1750 and North 1100 roads, about 2 miles south of Kansas Highway 10. They were working in a bucket hoisted about 500 feet to 800 feet from the ground, according to Douglas County Sheriff Ken McGovern.
It is unclear how the men were secured, he said.
Authorities said the men were killed on impact. Pending notification of their families, the sheriff declined to release the victims' names but said they were not from Douglas County.
"I've been here 27 years, and I don't recall anything like this," McGovern said. "It's horrific for the families."
Cliff Allison, vice president and general manager of KSHB-TV and KMCI-TV in Kansas City, Mo., said contractors were installing a new antenna as part of Sprint Nextel Corp.'s bandwidth conversion of its Nextel network. Allison said his company no longer owns the tower but uses it for relaying broadcasts from Lawrence.
"It's very tragic," Allison said.
The tower is now owned by TFMComm Inc., a Topeka-based wireless communications company.
"The workers that were involved were subcontracted by a tenant on the tower," said Samantha Conaway, TFMComm spokeswoman.
The men worked for a Missouri-based company, Conaway said. She declined to release any further information.
The accident is being investigated by McGovern's office, the Douglas County Coroner and the Occupational Safety and Health Administration.
Further details are expected to be released at 10 a.m. today, according to Lt. Kari Wempe, Douglas County Sheriff's Office spokeswoman.
Copyright 2018 The Lawrence Journal-World. All rights reserved. This material may not be published, broadcast, rewritten or redistributed. We strive to uphold our values for every story published.