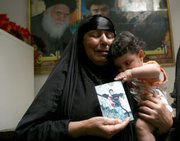 U.S. deaths
As of Monday, at least 3,606 members of the U.S. military have died since the beginning of the Iraq war in March 2003, according to an Associated Press count.
Baghdad — Iraqi leaders warned Monday the country could collapse if American troops leave too quickly as pressure mounts in Washington to draw down U.S. combat forces. More threats to Iraqi stability could be looming to the north with Turkish forces gathering in a possible prelude to a cross-border attack against Kurdish rebels.
Iraq's foreign minister said Turkey has massed 140,000 soldiers near Iraq - a figure immediately disputed by the Bush administration, which said satellite photos indicated no such buildup. Nevertheless, Turkey has been deploying troops on the border for several months, and the country's foreign minister said last week that the government and military had agreed on detailed plans for a cross-border operation.
The White House said President Bush is not considering a withdrawal of U.S. forces from Iraq now despite an erosion of support among Republicans for his war policy. A report is due Sunday on whether the Iraqi government is meeting political, economic and security benchmarks that Bush set in January when he ordered 21,500 more U.S. combat forces to Iraq.
Three prominent Republicans - Sens. Richard Lugar of Indiana, George Voinovich of Ohio and Pete Domenici of New Mexico - have announced they can no longer support Bush's Iraq strategy and have called on the president to start reducing the military's role here.
That drew a sharp response from Iraq's foreign minister, who warned that a speedy U.S. military withdrawal could lead to all-out civil war, destabilize the government and spread conflict across the Middle East.
"We have held discussion with members of Congress and explained to them the dangers of a quick pullout and leaving a security vacuum," Foreign Minister Hoshyar Zebari told reporters. "The dangers could be a civil war, dividing the country, regional wars and the collapse of the state."
That sentiment was echoed by leading political figures from the Sunni Arab community, the group that had been the least supportive of the U.S. presence following the collapse of Saddam Hussein's Sunni-dominated government in 2003.
"A hasty withdrawal : would lead to a crisis that would obliterate all the positive aspects of the U.S. troop deployment," said Salim Abdullah, spokesman for the largest Sunni Arab bloc in parliament.
U.S. commanders insist they have been making progress in restoring peace to Baghdad and building Iraqi security forces. After three years of U.S. training, however, the Iraqi army remains incapable of operating on its own, U.S. officials say.
Iraq's police force is believed heavily infiltrated by Shiite militiamen.
Violence Monday in Baghdad left 38 people dead, police said. North of the capital, a roadside bomb hit a bus carrying Iraqi soldiers, killing nine.
Copyright 2018 The Associated Press. All rights reserved. This material may not be published, broadcast, rewritten or redistributed. We strive to uphold our values for every story published.