Leesburg, Va. — Cheri Garvin and her staff at Leesburg Pharmacy will mix pediatric reflux medicine from scratch, in any flavor a child desires. And the kids get an advance taste, ice-cream-parlor style.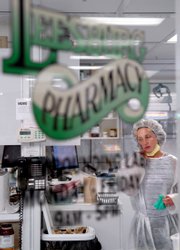 "We want to make mom's job of getting it down them easier," said Garvin, a mother of two young boys. "We'll mix tutti-frutti if that's what it takes."
"What it takes" is a mantra for Garvin, a community pharmacist in a world being overtaken by chain stores and, increasingly, mail-order warehouses. She has survived by turning her brick-and-glass storefront in the Virginia Village strip mall into a refuge for anyone whose health-care needs don't fit within the template of the big-box economy.
Sandy Bishop drove her daughter Elizabeth, 14, eight miles from Ashburn, Va., past a dozen pharmacies, to buy a brace for her ankle, which she sprained while playing lacrosse.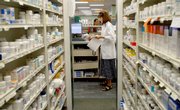 "They have a much better selection here than Wal-Mart," said Elizabeth. Parents of autistic children, who are sensitive to many additives, come here to have their medicine specially mixed, allergen-free, in the pharmacy's state-of-the-art compounding lab. People with questions about medications can ask them at an out-of-the-way consultation counter.
"I feel like I can actually talk to someone without those horrendous lines at CVS where everyone hears you," Sandy Bishop said.
Forces of competition
But the pharmacist with remedies for everyone is not at all sure she can heal herself. Nationwide, more than 1,100 independent pharmacies went out of business last year, squeezed by shrinking reimbursements from insurance companies, Medicare and Medicaid.
From behind the pharmacy counter, Garvin says she can feel the forces of competition turning the economy into one giant distribution chain, moving ever more products to ever more people at ever lower costs, mowing down everything in between. Amazon.com did it to bookstores, Home Depot did to hardware stores, and now so many forces are converging on community pharmacies that it feels like a tornado at the door - with nothing pushing back but a slight and hyperkinetic Garvin in her white pharmacist's coat.
Garvin, 40, grew up in Leesburg and got her medicines from Leesburg Pharmacy as a child. Her family knew the founder, Bruce Roberts, who recruited her when she was a standout biology major at George Mason University and mentored her from then on. She is now the pharmacy's chief executive.
"In the past," she said, "you had a product, and you had a price you could sell it for, and you sold it at that price. But that's not the reality now. The prices are set by the insurance companies." The big-box stores and mail-order firms have leverage to negotiate volume discounts on drugs. Not so a neighborhood pharmacy.
Barely breaking even
There are nine chain-store pharmacies within two miles of Garvin's - not only Rite Aid and CVS but also Wal-Mart, Target and grocery stores. They make up for losses on drugs by selling cartloads of higher-margin items. Garvin's pharmacy, meanwhile, barely breaks even, with six full-time pharmacists and a stable of technicians to provide the specialized services that keep drawing customers. Garvin said the pharmacy's salaries fall within the range for community pharmacists in the region - $85,000 to $95,000 a year.
"We could do what the chains do - cut staff," she said. "But we couldn't live with what that would do to our customer service. So as a management team, we have chosen to keep the staff and face the financial consequences." The employees, who are buying the pharmacy through an employee-stock-ownership plan, take lower salaries than their counterparts at chain stores.
The math is relentless. The government and insurance companies reimburse less than what Garvin has to pay for some drugs, and barely a dollar or two more for many others. But it costs $10 to $12 in salaries and other overhead to fill an average prescription, Garvin says. Nobody pays for the hours her staff spends each day troubleshooting claims with insurance company help desks, often based in India. As a result, the pharmacy is a loss leader for other parts of the business that do make money - like the compounding lab, the largest in Northern Virginia, a magnet for customers who can't take commercial drugs.
Hospice patients who can't swallow can have the active ingredients in their medicines compounded into drops or creams. Parents of pediatric reflux patients come for an alcohol-free version of the adult medicine. Those allergic to the dyes in drugs can get a compounded version of their medicine free of artificial coloring.
Medicaid reimbursements
Besides compounding, the pharmacy makes money from its gift shop, medical equipment sales, wellness services such as screenings for cholesterol and bone density, and a flourishing practice compounding medicines for pets.
"Anything for Muffy and Fluffy," Garvin said.
For all that, business is flat, and Garvin is looking everywhere for savings, recently switching to cheaper labels and vials. But as health-care costs explode, the government is trolling for cuts, too. The Medicaid program is moving to cut drug reimbursement rates to a level Garvin said independent pharmacies can't afford. She and her staff considered dropping Medicaid recipients to protect their bottom line - that is, until she printed out their names and saw who would be hit.
"I said, 'We can't do this. They've been our patients for years. We'd be turning our backs.' " She has put off the decision, hoping Medicaid relents.
Copyright 2018 The Lawrence Journal-World. All rights reserved. This material may not be published, broadcast, rewritten or redistributed. We strive to uphold our values for every story published.