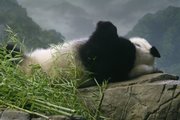 Washington — The National Zoo will not be welcoming a new giant panda cub this summer, officials said Friday morning.
The announcement was based on study of the hormone levels and weekly ultrasound exams of the zoo's 230-pound female giant panda, Mei Xiang, who was artificially inseminated in April.
Mei Xiang's level of progesterone, a hormone associated with pregnancy, began to decline on June 28, zoo officials said in a statement issued Friday. That hormone has now reached baseline levels. Since she has not delivered a cub, zoo experts determined that she had a pseudopregnancy.
Panda pregnancies are notoriously difficult to diagnose. After ovulating, a panda almost always undergoes changes associated with a pregnancy even when she has not conceived.
Zoo officials said, for example, recent ultrasound tests showed changes in the panda's uterus that could have indicated a pregnancy, but the tests never showed a fetus. "We never got a heartbeat," one expert said.
Mei Xiang, who is 8, has had four pseudopregnancies. She had three before giving birth to her only cub, Tai Shan, in 2005.
Zoo officials said Mei Xiang's behavior will return to "normal" shortly, meaning her appetite and activity levels will increase.
Giant pandas generally ovulate once a year, so zoo scientists will determine whether Mei Xiang should be considered for breeding in 2008.
Mei Xiang was inseminated with semen from Gao Gao, a giant panda in the San Diego Zoo. As her hormone levels spiked, and then began to level off, National Zoo officials had been watching her closely for pregnancy clues.
Mei Xiang was placed on a 24-hour-a-day panda cam pregnancy watch on June 29, and the zoo established an optimal birth window of July 6 to July 16. Panda gestation periods range between 90 and 185 days.
Zoo scientists had been carefully monitoring Mei Xiang's rising hormone levels, which can be clues to pregnancy, and performing ultrasound examinations several times a week to try to determine if the panda was pregnant. But even up to the last moment, zoo officials said they remained uncertain.
Experts said the panda's pregnancy hormone level began to drop several days ago, a development that meant the panda was about to give birth or that the pregnancy was false.
When the panda's hormones were tested Thursday and found to have bottomed out, and no cub had appeared, scientists realized that Mei Xiang was not pregnant.
"Everyone's, of course, very disappointed, very disappointed," said JoGayle Howard, a zoo reproduction expert who performed the insemination procedure on Mei Xiang. "That's just the way it goes. We can try it again."
Copyright 2018 The Lawrence Journal-World. All rights reserved. This material may not be published, broadcast, rewritten or redistributed. We strive to uphold our values for every story published.