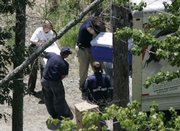 Surry, Va. — A property owned by Atlanta Falcons quarterback Michael Vick was used as the "main staging area for housing and training the pit bulls involved" in an alleged dogfighting operation, according to court documents.
The papers, filed by federal authorities Monday in U.S. District Court in Richmond and obtained Friday by the Associated Press, contain the address of the Vick property that has been the center of the investigation. Vick is not named in the documents.
Friday, federal agents again searched the property. They finished their work at about 4:30 p.m. and declined to answer reporters' questions as they left.
According to the documents, dog fights have been sponsored by "Bad Newz Kennels" at the property since at least 2002. For the events, participants and dogs traveled from South Carolina, North Carolina, Maryland, New York, Texas and other states.
Members of the venture also knowingly transported, delivered and received dogs for animal fighting, the documents state.
Fifty-four animals were recovered from the property during searches in April, along with a "rape stand," used to hold dogs in place for mating; an electric treadmill modified for dogs; and a bloodied piece of carpeting, the documents said.
The documents said the fights usually occurred late at night or in the early morning and would last several hours. The winning dog would win from "100's up to 1,000's of dollars," and participants and spectators also would place bets on the fight.
Before fights, the participating dogs of the same sex would be weighed and bathed, according to the filings. Opposing dogs would be washed to remove any poison or narcotic placed on the dog's coat that could affect the other dog's performance. Sometimes participants would not feed a dog before the fight to "make it more hungry for the other dog," the documents said.
Fights would end when one dog died or with the surrender of the losing dog, which was sometimes put to death by drowning, strangulation, hanging, gun shot, electrocution or some other method, according to the documents.
Friday, federal agents used shovels and heavy equipment to search the Vick property.
A backhoe-front loader was brought in and used to scoop up sections of a cleared wooded area in the rear of the property. The material was dumped into ice-filled coolers and loaded into a rental truck, which left the property.
Some of the investigators wore T-shirts reading: "Federal Agent USDA."
Copyright 2018 The Lawrence Journal-World. All rights reserved. This material may not be published, broadcast, rewritten or redistributed. We strive to uphold our values for every story published.