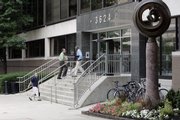 London — The FBI said Friday that two suspects in the failed car bombings in Britain had made inquiries about working in the United States, and an Iraqi doctor arrested at the attack on Glasgow airport became the first person charged in the terror plot.
Prime Minister Gordon Brown warned Britons to expect increased security measures to guard against more attacks, but he expressed confidence that investigators were unraveling the group behind the bombing attempts in London and Glasgow.
"From what I know, we are getting to the bottom of this cell that has been responsible for what is happening," Brown told British Broadcasting Corp.
Police were being stretched to the limit over the weekend with the Wimbledon tennis tournament, the Tour de France in London and a Live Earth concert starring Madonna. Several ceremonies also were planned today to mark the second anniversary of suicide bombings that killed 52 people and wounded more than 700 in London on July 7, 2005.
"We have got to avoid the possibility - and it is very, very difficult - that people can use crowded places for explosions," Brown said.
On June 29, police defused two car bombs left to blow up near packed nightclubs and pubs in central London. The following day, two men rammed a Jeep loaded with gasoline canisters into the main terminal at Glasgow's airport, failing to set off an explosion but seriously burning one of suspects.
In all, eight people are now in custody - all thought to be Muslim foreigners who worked for Britain's National Health Service. Seven are being held in Britain and one in Australia.
An FBI spokeswoman said Friday that two of the suspects - Mohammed Asha, 26, and another man whose name she didn't give - contacted the Philadelphia-based Educational Commission for Foreign Medical Graduates, confirming a story first reported by The Philadelphia Inquirer.
Asha, a Jordanian physician of Palestinian heritage, contacted the agency within the past year, but apparently did not take the test for foreign medical school graduates, said the spokeswoman, Nancy O'Dowd.
"He was applying. We don't believe he took the test," she said.
Stephen Seeling, the commission's vice president of operations, said FBI agents visited the office in West Philadelphia this week, but said he could not discuss details about what they were looking for because of privacy rules.
The nonprofit commission verifies the credentials of foreign medical school graduates, evaluates individuals' medical knowledge and administers exams. It represents just one step in a process foreigners must go through to obtain training as a medical resident in the U.S.
"We're a vetting organization that reviews applicants at the early stages," Seeling said.
There is no guarantee an applicant certified by the commission will ever practice medicine in the U.S. Seeling noted decisions about whether to issue visas to foreign doctors lies with federal immigration officials.
In London, meanwhile, Bilal Abdullah, a 27-year-old doctor, was charged Friday with conspiring to cause explosions, a police spokeswoman said, speaking on condition of anonymity in line with police force policy.
Abdullah was arrested at Glasgow Airport, where he allegedly was a passenger in the Jeep Cherokee that crashed into the terminal entrance.
The police statement came shortly after prosecutors said they had authorized the charge.
"I have now made the decision that there is sufficient evidence and authorized the charging of Bilal Abdullah with conspiracy to cause explosions," said Susan Hemming, an anti-terrorism prosecutor.
Prosecutors said Abdullah would appear at City of Westminster Magistrates' Court today.
Copyright 2018 The Associated Press. All rights reserved. This material may not be published, broadcast, rewritten or redistributed. We strive to uphold our values for every story published.