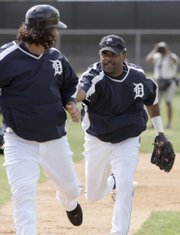 Detroit — Tigers infielder Neifi Perez became the first player penalized for testing positive for a stimulant under Major League Baseball's drug program Friday.
"I say to my fans that I am not stupid," Perez told the Dominican radio program Impacto Deportivo in his homeland. "I know the difference between good and bad, and there are things that are going to be known going forward, but my lawyer has advised me not to talk for now."
Tigers teammates didn't seem to have a lot of sympathy for the seldom-used player, whose 25-game suspension will cost him about $400,000 of his $2.5 million salary.
Under pressure from Congress, baseball owners and players agreed in November 2005 to a toughened drug plan, which included testing for stimulants for the first time.
Baseball doesn't release the names of players who test positive for amphetamines the first time, which results in counseling. The player then is subjected to at least six additional tests over the next year.
"The rules are in the books," shortstop Carlos Guillen said in Detroit's clubhouse, which was closed to the media 40 minutes later than normal following a team meeting.
Outfielder Magglio Ordonez, sitting next to Guillen, chimed in.
"Rules are rules. You break the rules ..." Ordonez said before Guillen finished his thought.
"You pay," Guillen said.
The suspension takes effect immediately and the money he loses will depend on days off. The 34-year-old Perez would be eligible to return around Aug. 4 against the Chicago White Sox.
Losing Perez will not likely affect the defending AL champions much because Perez was hitting a mere .172 with one homer and six RBIs in just 64 at-bats in the team's first 83 games.
Perez has made at least one significant contribution this season, though, starting a spectacular double play to end the eighth inning of Justin Verlander's no-hitter last month.
Detroit acquired Perez from the Cubs last season for a minor leaguer, adding infield depth less than a week after losing star second baseman Placido Polanco to an injury. He is a former Gold Glove shortstop, in 2000 with the Colorado Rockies. He also has played for Kansas City, San Francisco and Chicago.
Perez struggled last season for the Tigers, and has not improved his production this year.
Tigers president and general manager Dave Dombrowski said the organization supports Major League Baseball's Joint Drug Prevention and Treatment Program, adding he didn't see how the team could bear any responsibility for Perez's suspension.
"Everybody is educated," Dombrowski said. "Everybody knows the program."
The Tigers purchased the contract of outfielder Ryan Raburn from Triple-A Toledo to take Perez's place on the 25-man roster.
Stimulants were banned prior to the 2006 season. Under the policy, a third positive test for amphetamines results in an 80-game suspension. A fourth brings a lifetime ban.
Copyright 2018 The Lawrence Journal-World. All rights reserved. This material may not be published, broadcast, rewritten or redistributed. We strive to uphold our values for every story published.