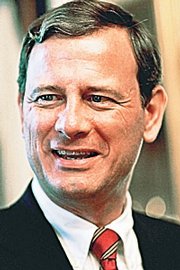 John G. Roberts Jr., chief justice of the United States, is scheduled to deliver the 2008 Vickers Memorial Lecture at Kansas University next spring.
The public lecture, a joint collaboration between the School of Business and School of Law, will take place April 30 at the Lied Center.
Roberts will be the first sitting chief justice to visit the university.
"I think it's an exciting opportunity for students to get to meet someone this highly ranked in the judicial system," said Toni Dixon, School of Business communications director.
Dixon said officials tried to book Roberts for this year but learned they had to schedule an appearance a year in advance.
"We had a great deal of help from Steven McAllister at the School of Law," Dixon said. "He had been a clerk at the Supreme Court. He had contacts there and put us in touch with John Roberts' office. It wasn't simple after that, but it helped us get the door open."
McAllister, a law professor, was a clerk for Supreme Court justices Byron White and Clarence Thomas.
Roberts will spend two days visiting with business and law students and faculty. Dixon said it's rare for a lecturer to spend time in the classroom.
In a press release, Gail Agrawal, dean of the School of Law, said the Roberts' visit will be especially meaningful for law students.
"We anticipate that Chief Justice Roberts will speak to students in our constitutional law classes during his time on campus," Agrawal said. "I expect we will open those class sessions to as many students and faculty members as possible. The entire law school community is looking forward to his visit."
Roberts worked in a private practice in Washington, D.C., for 10 years before he became a judge on the U.S. Court of Appeals for the District of Columbia Circuit from 2003 to 2005. President George W. Bush appointed Roberts as chief justice on Sept. 29, 2005.
The Vickers lecture began in 1969 and has brought numerous visitors to campus, including George H.W. Bush, Yitzhak Rabin and Supreme Court Associate Justice Sandra Day O'Connor.
The lecture will be free to the public, but tickets won't be available until 2008.
Copyright 2018 The Lawrence Journal-World. All rights reserved. This material may not be published, broadcast, rewritten or redistributed. We strive to uphold our values for every story published.