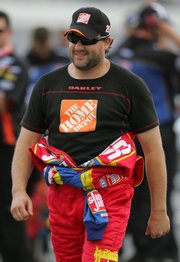 Daytona Beach, Fla. — It took Tony Stewart 25 starts to earn his first NASCAR victory and end the longest drought of his professional career.
The two-time NASCAR champion isn't close to breaking that 1999 mark just yet, but he heads into tonight's race at Daytona International Speedway - the 18th event of the season - still searching for his first win.
"I didn't realize he hasn't won," said Jimmie Johnson, a four-time winner this season. "I guess I expect him to win all the time."
So does Stewart, who has every reason to believe a win is in his immediate future. He probably should have about four of them this season, but mechanical issues and accidents derailed what looked to be certain victories.
And he's been untouchable at this track - he probably would have won the season-opening Daytona 500 if Kurt Busch didn't knock him out of contention - and in this race. Stewart is the two-time defending Pepsi 400 winner, leading all but nine of the 160 laps in 2005 then following it last season by leading a race-high 86 laps.
The consecutive wins tied him with David Pearson, Cale Yarborough and A.J. Foyt as the only back-to-back Daytona winners, and a win tonight would elevate him to elite status: Pearson is the only driver to win this event, then known as the Firecracker 400, three straight times.
"I would be foolish not to consider him the favorite," Johnson said. "They always have the magic setup here for the hot summer July races. So I think he's the favorite going in and you might see him climbing that fence again and do a stage dive into the fans."
Stewart started that celebratory practice following his 2005 win and kept on climbing through the summer as he won five times in a seven-race span. His desire to shake off the cobwebs and climb again is strong, but he's too superstitious to plan for it tonight.
Besides, he knows better than to assume the victory is his for the taking. He's learned the hard way that nothing is guaranteed, starting with the 500 here in February.
He dominated Speedweeks, winning the exhibition Budweiser Shootout, a qualifying heat and pacing almost every practice session. Then he led 35 laps of the main event, but never made it to the finish after Busch knocked him into the wall.
He's long past it, and can't be bothered to even discuss it.
"That was clear back in February and I've done a lot of stuff since then," he said. "The last time I checked, February's over and you can't do anything about it."
Nor can he do anything to change Atlanta (121 laps led), Bristol (257), Phoenix (132) or Charlotte (55). He dominated at every track, but failed to make it to Victory Lane. The frustration mounted in late April, when he criticized NASCAR officials and likened the sport to professional wrestling on his radio show, but quickly retracted and has since been a model of good behavior.
But as the winless streak goes on, the hot-tempered Stewart has been a ticking time bomb that everyone expects to erupt.
"Oh, he will, just give him time," said Foyt, his longtime friend and racing idol. "You tell him I said that."
Stewart is determined to prove Foyt and his detractors wrong.
"You guys all want me to be ready to explode, but I'm not going to do that," Stewart said. "We're just not in that mode, we haven't been all year. We know we're in position to win races, so there is no reason to panic."
Team president J.D. Gibbs has been preaching patience all season, insistent there's no reason for anyone within the organization to panic. So long as the cars are strong, Gibbs believes his drivers have nothing to worry about.
Denny Hamlin proved him right last week in New Hampshire when he scored his first win of the season, and Stewart wants to do the same.
"The more important factor to me is just being able to be in those positions to where we should have won races," Stewart said. "If we were 35th, that's when I'd be in panic mode saying, 'Man, we're really missing something here.'"
Copyright 2018 The Associated Press. All rights reserved. This material may not be published, broadcast, rewritten or redistributed. We strive to uphold our values for every story published.