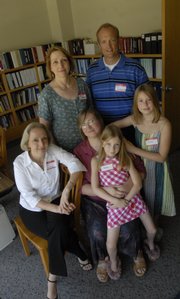 Three questions with ... Liane Hetherington Ward
Longtime Lawrence resident Jean Hetherington was committed to helping people.
As a volunteer for Independence Inc., she was not afraid to stand up for people like her with disabilities.
"She would intervene on their behalf," said Kristia Hetherington Finnigan, one of her daughters.
Jean Hetherington, who died Feb. 8, was honored by family and friends Friday afternoon when a library was dedicated in her name at Independence Inc., 2001 Haskell Ave. The library holds information for people with disabilities that will help them gain access to housing, Social Security funds and other necessities.
"The one legacy Mom would have wanted would be a library in her name," said Liane Hetherington-Ward, her daughter.
In 1984, Jean Hetherington suffered from viral encephalitis, an inflammation of the brain, and a head injury in a car accident.
She started taking classes at Independence Inc., which provides education to people with disabilities.
Kristia Hetherington Finnigan said her mother turned the injury into something positive through her volunteer work. She also spent time at the Lawrence Public Library, where she helped with the book sales.
Jean Hetherington, who was described as having a great sense of humor, worked with a support group for people with brain injuries and also put together a book titled "My Reality Check Bounced: Humor From a Brain Injury Perspective."
"She sort of evolved from getting help to giving help," Liane Hetherington-Ward said.
Copyright 2018 The Lawrence Journal-World. All rights reserved. This material may not be published, broadcast, rewritten or redistributed. We strive to uphold our values for every story published.