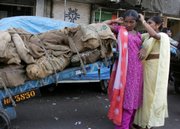 New Dehli, India — India has about half as many people infected with the AIDS virus as previously believed, India's government confirmed Friday.
The experts' consensus was that India had the most HIV cases in the world - 5.7 million - and that number could rise if aggressive measures weren't adopted.
New estimations of the country's infection rate, based on a nationwide house-to-house survey with blood sampling as well as prenatal blood tests of pregnant women, suggests the country has about 2.47 million people infected with the virus that causes AIDS, said Anbumani Ramadoss, the national minister of health and family welfare.
"Today we have a far more reliable estimate of the burden of HIV in India," Ramadoss said. "In terms of human lives affected, the number is still large, in fact, very large. This is very worrying for us."
That reduced estimate, which mirrors similar revisions of estimates of AIDS prevalence in a variety of African countries, drops India from first in the world in HIV infections to third place, behind South Africa and Nigeria.
Indian officials called the revised estimates good news for the country, which now appears to have about 0.36 percent of people ages 15 to 49 infected with HIV rather than the previously thought 0.9 percent. The reduced estimate indicates India's epidemic is still focused mainly in high-risk groups - prostitutes and their clients, intravenous drug users and gay men - rather than in the general population as in South Africa, where the infection rate among people 15 to 49 years old is 16 percent.
Health officials said Friday that India's infection rate also appears to be dropping slightly overall, suggesting that increasingly intensive efforts to stop the spread of the disease are working.
India "has been able to successfully contain this epidemic," said Naresh Dayal, an official with the country's Health Ministry.
But health officials warned that continuing education and prevention efforts are important to ensure India's AIDS problem remains at a manageable level. With a population of 1.1 billion people, the country could still be suffering perhaps 300,000 new infections with the AIDS virus each year, said Prabhat Jha, a researcher with the Center for Global Health Research at the University of Toronto.
Under a program announced Friday, the country will spend $2.8 billion over the next five years to try to expand condom use, more than double the number of people taking AIDS tests each year and triple the number of people receiving AIDS treatment drugs.
"Surely all of this is good news," said Ashok Alexander, the director of Avahan, an Indian arm of the Bill and Melinda Gates Foundation, which along with US AID, the United Nations and other agencies are supporting India's anti-AIDS efforts.
The government on Friday reaffirmed its commitment to fighting the disease. "There is no doubt in my mind we cannot let down our vigil," Ramadoss said.
Copyright 2018 The Lawrence Journal-World. All rights reserved. This material may not be published, broadcast, rewritten or redistributed. We strive to uphold our values for every story published.