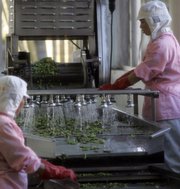 Beijing — A former department head at China's drug regulation agency was sentenced to death Friday on bribery charges, as U.S. regulators ordered a recall of three more Chinese-made products deemed dangerous to children.
The developments were the latest in widening concerns about the safety of Chinese goods both at home and abroad.
Cao Wenzhuang, a department director at the State Food and Drug Administration, was given the death sentence with a two-year reprieve on charges of accepting bribes and neglecting official duties, said his attorney, Gao Zicheng.
While the sentence was unusually harsh given the charges, such suspended death sentences are usually commuted to life in prison if the convict is deemed to have reformed.
Cao, who oversaw the pharmaceutical registration department, had been secretary to Zheng Xiaoyu, the head of the agency, in the 1980s. Zheng was sentenced to death in May for taking bribes to approve substandard medicines, including an antibiotic blamed for at least 10 deaths.
In the pharmaceuticals department, Cao, 45, had the power to approve pharmaceutical production in China from 2002 to 2006.
He was charged with accepting $307,000 in bribes from two medical companies, which were seeking approval to sell their products. He also was charged with neglecting his duties in approving drugs.
Meanwhile, the U.S. Consumer Product Safety Commission announced Thursday three recalls, covering jewelry that the agency said could cause lead poisoning. They also covered a magnetic building set and plastic castles with small parts, which it said could choke children.
About 20,000 sets of Essentials for Kids Jewelry, sold by Future Industries of Cliffwood Beach, N.J., were recalled because the metal jewelry sets contain high levels of lead that can be toxic if ingested by young children, the agency said.
Additionally, 800 Mag Stix Magnetic Building Sets sold by Kipp Brothers of Carmel, Ind., and 68,000 Shape Sorting Toy Castles sold by Infantino LLC, of San Diego were pulled because they posed choking hazards to young children.
Copyright 2018 The Associated Press. All rights reserved. This material may not be published, broadcast, rewritten or redistributed. We strive to uphold our values for every story published.