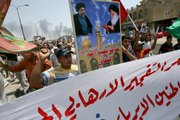 Baghdad, Iraq — Shop owners long afraid of Baghdad's bombings and shootings are keeping their stores open later these days on the main street of Jadidah district, saying they feel safer after weeks of a beefed-up U.S. security crackdown.
It is one sign that many Iraqis sense violence is easing somewhat in Baghdad as U.S. forces fight to put down militants in the capital and areas on the city's doorstep to the north and south.
But Iraqis are not putting much faith in the lull - attacks still hit some districts, fear of kidnapping remains widespread and everyone remembers past periods of calm that ended with new bursts of bloodshed.
Even where residents feel safer, security is a fragile, day-to-day thing.
But Baghdadis' sense of lessening violence may come from a decrease of such major vehicle bombs, which wreak scenes of devastation in public areas like markets - even though shootings and smaller roadside bomb attacks continue.
Some Iraqis credit it to the U.S. security increase, which began in February and culminated with major new offensives launched in mid-June after the full contingent of additional American troops deployed.
The death toll among civilians does not appear to have immediately fallen since the offensives began. From June 20 to Thursday, 472 civilians died in attacks in Baghdad, a dip of 2 percent from the previous 16-day period, according to a tally collected by The Associated Press from daily reports by Iraqi security and hospital officials.
But civilian deaths from car bombings fell 17 percent to 96 between the two periods - and all but nine of those deaths were in a single blast at a Shiite mosque on June 20 - suggesting the number of such major attacks has dropped. The number of bodies found dumped in the streets - victims of sectarian militias - decreased 11 percent to 279.
The figures don't give a full picture of the capital's death toll because casualties are not reported to police. Interior Ministry figures released earlier this week say civilian deaths in June were down 36 percent from May.
Some say they feel the difference, particularly compared to several months ago when more than 100 people a day were regularly killed.
"The improvement is obvious," said Hani Mowafaq, 40, who owns a shop in eastern Baghdad's mainly Shiite Jadidah district. The streets there used to shut down at 3 p.m. as storeowners rushed to get home before dark. "Now I can stay open until 9 and feel secure," he said, crediting increased U.S. and Iraqi patrols.
The U.S. military, which doesn't release civilian casualty figures, is reluctant to claim success yet, wary of raising expectations as it has in the past by taking credit for drops in violence, only to see them end. "It's too early to declare a trend," military spokesman Lt. Col. Christopher Garver said this week of reported reductions in deaths.
But greater quiet is the goal. The Bush administration is gambling that its "surge" of 28,000 additional troops can impose enough calm on the capital that Iraqis will begin to feel greater faith in their fragile government.
The gains they have made may not hold over the long-term. U.S. commanders say there are not enough Iraqi security forces to ensure insurgents don't return after the Americans pull back. The parallel political track of passing new laws to encourage Sunnis to stop supporting the insurgency and back the government has been held up by wrangling between Iraq's politicians for months.
Iraqis are keenly aware that a failure of political progress could bring the security situation crashing back down.
Even in safer neighborhoods, a single drive-by shooting or roadside bomb can revive residents' fears. Moreover, the worry over kidnapping - by sectarian militias or just common criminals - has not lifted.
"It's not the bombing we fear because you die immediately," said Mohammed al-Adhami, a real estate agent. "But if I'm kidnapped, I'll be tortured. They will break my bones with iron bars and drill holes in my body."
Copyright 2018 The Associated Press. All rights reserved. This material may not be published, broadcast, rewritten or redistributed. We strive to uphold our values for every story published.