Photo Gallery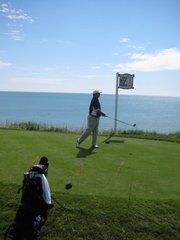 U.S. Senior Open: Randy Towner
Three questions with ... Randy Towner, Alavamar Country Club head golf pro
Haven, Wis. — Appearing in a major Thursday for the first time in his life at the age of 53, Randy Towner learned firsthand and in relentless fashion why the holes at Whistling Straits, site of the 28th U.S. Senior Open, were given such menacing names.
Hole No. 9, a 415-yard par 4, is called "Down and Dirty." Towner, head pro at Alvamar Country Club, put his second shot down and into a creek and carded a dirty double bogey to move to 5-over at the turn.
The 11th hole is called "Sand Box." It took Towner two shots to get out of one of Pete Dye's cruel fairway bunkers and he took a double-bogey 7.
By the time Towner's five-hour walk was over, he had taken 84 shots to finish 12-over par, tied for 149th in a field of 156. He had three doubles, seven bogeys, seven pars and one birdie on his card.
"I thought if I played my two best rounds I would have a chance to make the cut," Towner said. "That's probably a bit unrealistic. My goal (today) is to break 80. It's just that hard."
Then how is it that nine of the 78 players who finished their rounds (rain halted play before the other 78 finished) finished under par, including leader Eduardo Romero, who was 6-under with a 66?
"They're just that good," Towner said. "They are so good."
Towner hit seven of 18 greens in regulation, hit eight of 14 fairways and stroked 34 putts on greens made so difficult by all the undulations. Towner's tendency to hit approach shots above the hole made them more difficult, leaving him with an inordinate number of downhill putts.
Towner rolled a beauty of a downhill 30-footer, leaving it two feet from the cup on No. 7, a hole named "Shipwreck." Leaving his father John groaning from atop a dune behind the ropes, Towner missed the putt and took a bogey to move to 3-over par.
"Take your time!" his father said to himself under his breath.
Father knows best.
"I looked down and I thought: There are spike marks there," the son said after the round. "It's been years since I've seen spike marks on a golf course. And then my shadow was there. I should have just backed away. But that's how you learn."
Recent Free State graduate Austin Wright, Towner's caddy, chimed in that the pro already has put that lesson into practice.
"You didn't do that the rest of the round," Wright said, meaning putting out instead of marking and waiting.
That miscue ran Towner's bogey streak to three holes and erased his strong start.
After the announcement, "Please welcome from Lawrence, Kansas, Randy Towner," he calmed wife LeAnn's jumpy nerves by blasting his tee shot long and right down the middle. His 20-foot birdie putt just missed beneath the hole, and he tapped in for a par.
On the 554-yard, par-5 second hole, Towner's drive was in the right rough and left him standing slightly beneath the ball. In a shot that drew instant respect from the gallery, Towner hammered a 3-wood onto the green, 10 feet from the pin. His eagle putt came within an inch of disappearing into the cup, and he moved to the third hole 1-under par. No matter what Towner does the rest of his golf career, he can say he was under par during a USGA major championship.
From there, things took a turn for the worse. He lost 11 strokes to par over the next 10 holes.
Towner was far from alone in struggling to stay afloat. Two other players joined him at 12-over par, and four finishers had higher scores.
Jerry Wisz, a club pro from Alhambra, Calif., and amateur Tom Grady played with Towner. Grady shot an 81, Wisz an 82.
In his final five holes, Wisz demonstrated just how unpredictable a round it can be for players not used to playing in such big events on such tough courses. He finished birdie, birdie, birdie, double bogey, triple bogey.
Nerves didn't appear to be a problem for Towner, who on a couple of occasions chatted with friends and family while waiting for the group ahead.
"Isn't this a beautiful course?" he said, standing on a tee box. "And hard. Like trigonometry."
Towner qualified for the tournament by shooting a 71 at Oakwood Country Club in Kansas City, Mo., on June 14, achieving a goal that had eluded him his first two attempts. Once he made it, his goal became making the cut.
"What we need is for 50 mph winds and I shoot 70," Towner said.
In other words, he's not going to make the cut, and he knows it. Now that he has played a round in the U.S. Senior Open, now that that milestone is out of the way, he sounded certain about what lies ahead.
"I'll play better (today)," he said. "It's been a long time since I shot an 84."
Copyright 2018 The Lawrence Journal-World. All rights reserved. This material may not be published, broadcast, rewritten or redistributed. We strive to uphold our values for every story published.