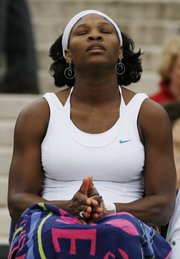 Wimbeldon, England — Venus Williams giggled Wednesday, looking more like a kid who just won her first match than a veteran who just beat Maria Sharapova in a showdown of Grand Slam champions at Wimbledon's Centre Court. Up in the players' guest box, Williams' father jumped for joy, too, thrusting his arms in the air repeatedly.
Two hours later, the setting and the family were the same, yet the mood was far more subdued. Younger sister Serena shuffled off to the locker room, having lost to No. 1 Justine Henin in the quarterfinals at a second consecutive major.
What could have been another wonderful day for the Williams clan at the All England Club was only half so: After three-time Wimbledon champion Venus overwhelmed Sharapova 6-1, 6-3, two-time Wimbledon champion Serena couldn't overcome her own poor health or a determined Henin in a 6-4, 3-6, 6-3 defeat.
"I wasn't even sure if I was going to go out and play," said Serena, who played with tape on her left calf and left thumb, both injured in her dramatic fourth-round victory Monday.
Managing to be slightly more gracious than after losing to Henin at the French Open - "All she had to do was show up," was the postmatch assessment then - Serena said Wednesday: "She played a very high-quality game. I thought she played probably some of her best tennis."
Henin next meets No. 18 Marion Bartoli, who reached her first Grand Slam semifinal by coming back to beat No. 31 Michaella Krajicek 3-6, 6-3, 6-2 after taking a nap during a rain delay.
"After that," Bartoli said, "I was feeling much better."
Venus averaged 115 mph on first serves and reached 126 mph. She won 33 of 42 points on her serve and only once was taken to deuce. She compiled a 9-3 advantage on points that lasted at least 10 strokes.
"You've got to give her credit," the second-seeded Sharapova said. "Her average first serve was 115, and some men don't do that."
Second-seeded Rafael Nadal finally wrapped up a victory over No. 28 Robin Soderling in a third-round match that was supposed to start Saturday.
No. 4 Novak Djokovic also reached the fourth round, while No. 3 Andy Roddick and No. 12 Richard Gasquet set up a quarterfinal meeting. Venus next meets No. 5 Svetlana Kuznetsova in the quarterfinals.
Copyright 2018 The Associated Press. All rights reserved. This material may not be published, broadcast, rewritten or redistributed. We strive to uphold our values for every story published.