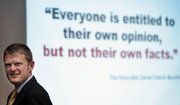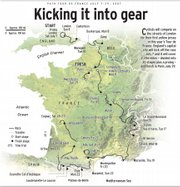 Glance
Paris (ap) - A brief look at this year's 2,120-mile Tour de France, on July 7-29:
WEEK ONE:
Starts in London, with prologue time trial near Trafalgar Square. The relatively flat terrain of the first week favors sprinters. Favorites for the overall title stay tucked in the main pack, safely away from the front riders nervously jostling for position.
WEEK TWO:
With the race going clockwise around France, riders reach the mountains quickly with the first of three Alpine stages on July 14 - a 122.1-mile trek from Bourg-en-Bresse to Le-Grand-Bornand. The following day has the first of three uphill finishes up to the ski resort of Tignes. The hardest Alpine stage is on July 17, taking in famed climbs such as the Col de l'Iseran and Col du Galibier. The second week ends with the opening time trial, 33.5 miles around Albi.
WEEK THREE:
More tough climbs, in the Pyrenees, and another time trial on the penultimate day. Stage 16 on July 25 is considered the toughest: 135.2 miles rising to a finish up the Col d'Aubisque.
That stage comes after a rest day. The Tour finishes in Paris, on the Champs-Elysees.
Paris — Cycling cannot afford another doping scandal, and desperately needs a clean Tour de France winner this year.
With few big names left, the race has an unpredictable feel to it - not just in terms of who will wear the yellow jersey, but who and how many might get caught doping between the Saturday start and the July 29 finish.
"Cycling must not only get its credibility back, but even more its dignity," Tour director Christian Prudhomme said in an interview. "It is a romantic sport which must be dignified. There are cyclists, managers, sponsors and organizers fighting for its dignity."
Ivan Basso and Floyd Landis are among the many riders either fired, suspended or under investigation for doping who won't be at the starting line in London. Others are trying to clear their names in time for the prologue near Trafalgar Square.
"Doping is the enemy of cycling and the enemy of the Tour de France," Prudhomme said. "Doping brings a certain absence of suffering, which is at the opposite of the cycling myth."
On the eve of last year's race, nine riders - including 1997 Tour winner Jan Ullrich and 2005 runner-up Basso - were kicked out after being implicated in a Spanish doping investigation called Operation Puerto. More than 50 cyclists were implicated because of their alleged ties to Eufemiano Fuentes, a doctor accused of running a blood-doping clinic in Madrid.
Basso received a two-year doping penalty from the Italian cycling federation in mid-June and has said he accepts the punishment. Basso confessed to "attempted doping," though he said he never actually went through with it.
Landis tested positive for synthetic testosterone at last year's Tour and his case is now before an arbitration panel.
Of the nearly 200 riders in this year's race, only Alexandre Vinokourov is considered a genuine favorite. The Kazakh rider is a dashing attacker. The wiry cyclist thrilled spectators along Paris' Champs-Elysees on the final day in 2005, when, after attacking Lance Armstrong in the mountains, he still found the energy to win the final stage with a flourish.
Five of Vinokourov's teammates on Team Astana withdrew from last year's Tour because of Operation Puerto, and Vinokourov had to pull out because a minimum six riders are needed for a team to compete.
This year, Vinokourov said he already has been drug tested randomly several times by the International Cycling Union.
"Once before the Fleche Wallone, another time in Tenerife, at training, and at the start of April where I live in Monaco," Vinokourov told sports daily L'Equipe on June 22. "If there was an anomaly, we would know, me the first. But I have not received no post to this day, no mail from the UCI."
Last year's runner-up, Oscar Pereiro, 2004 runner-up Andreas Kloeden and American Levi Leipheimer are dark horses this year. Pereiro will be declared the winner of last year's Tour de France if Landis loses his appeal.
The 2007 Tour could be an important milestone in cycling's fight against doping. If Leipheimer wins, he knows some will question whether he did it cleanly and thinks more has to be done "to convince everyone that not everyone is a cheater."
Leipheimer's Discovery Channel team director Johan Bruyneel thinks cycling needs an independent watchdog body to oversee the sport.
"I think what cycling is lacking right now is an expert vision on the whole picture," Bruyneel said Wednesday in a telephone call with reporters. "We need to sit together and bring in an expert on solving the crisis situation."
The UCI has requested that all 600 ProTour cyclists sign a charter saying they are not involved in doping and promising to submit DNA samples to Spanish authorities for the Operation Puerto probe. Under the pledge, cyclists also agree to pay a year's salary on top of a two-year ban if caught doping.
Prudhomme said anyone who refuses to sign the charter will be banned from the Tour.
"(The anti-doping charter) was a little bit of a surprise for everybody," Bruyneel said. "But all the team managers could agree that a positive sign had to be given. That was one of the ideas, we definitely agree with it. It will ultimately be signed by all our riders before the Tour de France."
A clean winner this year could help rejuvenate the sport, still reeling from Landis' failed drug test last year and nearly nonstop doping accusations and admissions in the past few months. In the past week, riders Alessandro Petacchi, Leonardo Piepoli and Vinokourov's Astana teammate Matthias Kessler were in the news for alleged doping.
Italian riders Petacchi and Piepoli had elevated levels of the asthma drug salbutamol, which can have performance-enhancing effects. Both riders have asthma and are authorized to use a certain amount of the drug.
Kessler's team said he tested positive for elevated testosterone in April. Astana suspended him pending results of a backup test.
The head of France's anti-doping agency said he is concerned that some prescribed drugs can act as masking agents for banned substances. Pierre Bordry said he expects to receive more than 1,000 requests for medical authorizations for drug use by the end of the year.
Contender capsules
The Associated Press
A look at some of the main contenders for the 2007 Tour de France title:
ALEXANDRE VINOKOUROV: 3rd in 2003; 5th in 2005. Didn't race in 2006 Tour after five teammates were implicated in a doping scandal. The 33-year-old Kazakh has won three Tour stages, and the 2006 Tour of Spain. Strong on mountain climbs, and has worked to improve his time trials.
LEVI LEIPHEIMER: 6th in 2005; 8th in 2002; 9th in 2004. The U.S. rider's Discovery Channel, casting around for a new champion since seven-time Tour winner Lance Armstrong retired in 2005, hopes that Leipheimer will at least finish in the top three. "I am 100 percent ready," said the 33-year-old.
ANDREAS KLOEDEN: Runner-up to Armstrong in 2004 and third last year. The tall, skinny German was a close associate of Jan Ullrich, who has since retired under a doping cloud. Kloeden now rides for the Astana team of Vinokourov. He is a strong climber and very fast. Won the Tirreno-Adriatico race in Italy in March.
OSCAR PEREIRO: Runner-up to Floyd Landis last year and could still be declared the 2006 Tour champion if Landis loses his appeal after testing positive for synthetic testosterone. The Spanish rider's mountain climbing strength is offset by a weakness in time trials. Pereiro placed 10th in 2004 and 2005, winning a tough climb that year in the Pyrenees.
CADEL EVANS: Abrasive, talented, fearless, Evans placed eighth in his first Tour two years ago and fifth in 2006. The 29-year-old Australian rider is a danger because of his strong climbing ability and stamina. Second at the Dauphine Libere race earlier this month, France's second-biggest stage race after the Tour.
CHRISTOPHE MOREAU: Eleven years after finishing 75th in his Tour debut, the 36-year-old French rider is blossoming late in his career. By winning the Dauphine Libere earlier this month, Moreau showed that his experience and climbing ability could still trouble more talented riders. Best Tour finish was fourth in 2000.
ALEJANDRO VALVERDE: Long tipped as one of Spain's brightest cycling prospects, the 27-year-old Valverde made his mark at the 2005 Tour when he beat Lance Armstrong in a tense mountain finish on the 10th stage from Grenoble to Courchevel. Even Armstrong was impressed. Valverde finished second at last year's Spanish Vuelta.
Copyright 2018 The Associated Press. All rights reserved. This material may not be published, broadcast, rewritten or redistributed. We strive to uphold our values for every story published.