-->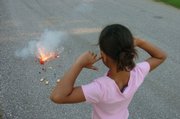 Maybe people are getting used to the bangs and booms this time of year.
Fewer people called police over the weekend than during the same time last year to complain about Fourth of July fireworks in Lawrence neighborhoods.
Between 4:30 p.m. Friday and 10:36 p.m. Sunday, police responded to 33 fireworks calls - 10 fewer calls than last year, police spokeswoman Kim Murphree said Monday.
No fires resulted from wayward firecrackers during the weekend, said Eve Tolefree, chief of division support services with Lawrence-Douglas County Fire & Medical.
Lawrence prohibits all fireworks within the city limits, with the exception of certain party poppers, snappers, toy smoke devices, snakes and toy caps.
People found to be in violation of the ordinance, which went into effect in 2002, can face a $100 to $200 fine for the first offense and a similar fine and the possibility of 180 days in jail for second and subsequent offenses.
According to city code, however, the penalties are merely recommendations to the municipal judge, who determines the final amount levied.
But police Sgt. Paul Fellers said most fireworks offenders know about the ordinance. Because of the holiday, more officers will be on patrol not only for illegal fireworks, but other offenses associated with merrymaking.
"(Illegal fireworks calls) do normally add to the normal call load that officers on the street handle," Fellers said. "I think our ordinance has been in place long enough that most people know it's not legal to have possession of or use fireworks within the city limits."
City Prosecutor Jerry Little said to his knowledge, no one has served jail time for possessing or shooting illegal fireworks.
Copyright 2018 The Lawrence Journal-World. All rights reserved. This material may not be published, broadcast, rewritten or redistributed. We strive to uphold our values for every story published.