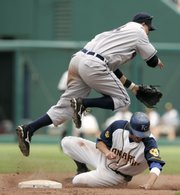 Kansas City, Mo. — First they lose 11 of 13 road games, then they beat Kansas City, 3-1, on Sunday to wrap up a 6-1 trip.
The White Sox headed back to Chicago with an entirely different outlook from the way they felt after their last ill-fated venture away from home.
"It's a pretty good job by everyone this road trip," said manager Ozzie Guillen. "Everybody contributed a little bit. Hopefully, this little run will stay for a long time."
Two of the wins went to right-hander Jon Garland, who has dominated Kansas City the past few years. He went seven innings and allowed only one run against Tampa last Tuesday and then held the Royals to seven hits and one unearned run in seven innings Sunday.
"Garland continued to throw the ball well," Guillen said. "He made some big pitches. He got in a little jam, and our defense was real good today."
Aided by Paul Konerko's 15th home run and an outstanding play by shortstop Alex Cintron that may have saved two runs, Garland (6-5) raised his career mark against Kansas City to 15-5. In his last 11 starts against the Royals, he's 8-1 with a 2.43 ERA.
"It might be I see them more. I know their hitters a little better than other guys in the league," Garland said. "And I'm making key adjustments and just all-around good play."
The Royals loaded the bases with two out in the seventh on two singles and the only walk Garland allowed. Then Esteban German, on a 3-2 pitch, hit a hot shot up the middle. But Garland got a glove on the ball and slowed it down, and Cintron ran in and made an outstanding play to nip German, who appeared to hesitate a second while getting out of the batter's box.
"I like to think I'm a pretty good fielding pitcher," Garland said. "It went off the glove. I almost caught it. (German) might have gotten a little carried away there, otherwise he might have been safe. Alex stayed right on it and made a great play for me."
Kansas City manager Buddy Bell did not fault German for not getting quickly out of the box.
"I don't know if he thought the ball was going to stay in the glove," Bell said. "Esty never half-steps."
Boone Logan relieved starting the eighth, and Bobby Jenks pitched the ninth for his 22nd save in 24 chances.
"I think (the road trip) is a huge confidence lift for the team," said Garland, who lowered his ERA to 3.15. "We scuffled bad our last road trip, and then we went home and really didn't pick up the play. To get on the road and take four from Tampa and take two here is a real confidence-booster. Hopefully we can keep going into this homestand and into the break."
Copyright 2018 The Associated Press. All rights reserved. This material may not be published, broadcast, rewritten or redistributed. We strive to uphold our values for every story published.