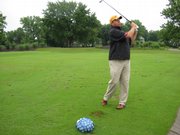 Television sets throughout Lawrence will be tuned to coverage of the U.S. Senior Open, which gets under way Thursday, just in case Alvamar Country Club pro Randy Towner gets some air time.
Towner, who qualified last month to participate in the tournament for the first time in three tries, left town Sunday, bound for Kohler, Wis. He is scheduled to taste Whistling Straits, mined with massive sand bunkers and deep rough, with the first of three practice rounds today.
It would be a mistake to assume that having the chance to meet some of golf's biggest names, such as Greg Norman and Lee Trevino, will be the highlight of the trip for Towner, who is in his 19th year at Alvamar.
Golf pros don't need to venture out to meet big names. Consider Towner's encounters with a few celebrities who have made it to Alvamar Country Club over the years.
An addicted golfer, Michael Jordan didn't want to wait until Roy Williams was done with his basketball camp obligations to tee off. So Williams called his good friend Towner and asked if he could play nine holes with Jordan until he joined him at the turn.
Naturally, Towner obliged. They teed off the back side.
"I hit a good ball," Towner remembered. "He hit a good ball. I pulled up to his ball, and he was waiting for me to get out."
Jordan assumed he was the one with the considerably longer drive. Towner succinctly let him know otherwise.
"NBA," Towner said, pointing to Jordan's ball. Then Towner pointed forward to his own ball and said, "PGA."
The next year, when Kansas University's basketball team was in Chicago for the NCAA Tournament, Williams took the team to a Chicago Bulls game, and Towner was there as well.
Towner recalled the exchange between Williams and Jordan.
Williams: "You remember Randy Towner from Alvamar, don't you Michael?"
Jordan: "(Pointing at himself) NBA. (Pointing at Towner) PGA."
"Nobody, not even anyone on my staff, knew he was coming out," Towner said of Jordan. "By the time he was done, he must have signed 100 autographs. Word just spread."
Jordan wasn't the only big name to join Towner for a round at Alvamar, as Towner's good friend and fellow PGA club professional Paul Hooser of Leawood South Country Club knows.
Deadpan Dan Grover was working the pro shop counter one day at Alvamar when Hooser called and asked, "Is Randy there?"
"No," Grover answered. "He's out playing golf with Mikhail Baryshnikov."
Hooser: "Dan, that may be one of the funniest things I've ever heard."
Funny but true.
"He's a good guy," Towner said of Baryshnikov. "Very nice. He was a real guy, you know, smoked cigars, had fun."
Towner said only once during his 19 years at Alvamar did he ask for an autograph, that of astronaut Neil Armstrong.
Why?
"There's only one guy who can be the first guy on the moon," Towner said.
Only one guy among 57 who played Oakwood Country Club in Kansas City, Mo., on June 14 would qualify for the Open. Towner earned the honor by riding his hot, 4-foot-tall putter to a 71.
Two years ago, he missed qualifying by two strokes. Last year, he missed by a stroke.
"How many guys get to do something for the first time at the age of 53?" Towner asked.
He would like nothing better than to be golfing Whistling Straits on his 54th birthday, which arrives Sunday. That would mean he bucked the odds and made the cut.
"You don't expect a club pro to be one of the top 60 seniors in the world," Towner said of the difficulty of making the cut in a field of 156. "You know you can do it. It's just on a stage you haven't done it before."
In part through his friendship with Williams, Towner said, he has been able to play "about 50 of the best 100 golf courses around," so he is no stranger to tough challenges. Even so, the Straits will present a monster challenge.
A Pete Dye-designed, links-style course carved alongside two miles of Lake Michigan coastline, Whistling Straits is said to be as treacherous to play as it is beautiful to view. The course's website (destinationkohler.com) describes it as "open, rugged and windswept terrain."
The yardage is 7,068, the course rating 76.6, the slope 155. The USGA stimpmeter reading on the putting greens is at 12. Mounds and sand bunkers are all over the place. A flock of Scottish Blackface sheep lives on the course.
While working on his stroke on the practice putting green at Alvamar Country Club, Towner shared with member Todd Chapple that the second cut of rough at Whistling Straits is six inches deep.
"We don't have that around here," Towner said before correcting himself. "We do, but we call it wheat."
Towner's wife, LeAnn, and three daughters, Libby, Katie, and Abby will be on hand to watch their favorite golfer. Recent Free State High graduate Austin Wright, who dates Abby, will be Towner's caddy.
Nervous? Of course Towner is.
"It's golf. Obviously, no one is going to run out of the stands and block my swing or anything," he said. "I should be able to do it. If I can do it here, I should be able to do it there. I've usually been much better under pressure than just out playing. I can't wait to get that nervous feeling. I love that nervous feeling because you know it means something then. It's a great feeling to have."
Although Towner isn't likely to be star-struck, he did acknowledge that he looks forward to competing side-by-side with some of the sport's biggest names.
"It's kind of neat to know I'll be hitting balls on the range and Hale Irwin might be there, and Greg Norman might be there and Lee Trevino might say, 'Hey kid, where are you from?' " Towner said.
Actually, since the lockers are arranged alphabetically, there is a chance Trevino just might say that. Towner expects his locker to be between those of Trevino and Scottish star Sam Torrance. Towner said he was disappointed to read Gary Player, one of his favorites, had withdrawn.
Asked to name the one golfer he most wants to see, Towner said Bruce Summerhays.
Huh?
"We used to have the Kansas Open here and we'd do a putting tournament with the Cottonwood kids, the Special Olympians," Towner said. "The pros would come in and I'd ask them if they wanted to go help with some of the mentally challenged kids in the putting contest. Very few of them would ever do that. Bruce Summerhays did every time he came through. So I'd like to see him and tell him thanks for doing that."
Spoken like a true club professional.
Copyright 2018 The Lawrence Journal-World. All rights reserved. This material may not be published, broadcast, rewritten or redistributed. We strive to uphold our values for every story published.