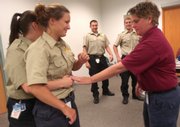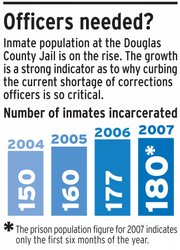 The Douglas County Jail is experiencing its biggest shortage of corrections officers in six years.
It's a dilemma reflecting a national trend that law enforcement agencies face: retaining and recruiting officers in jobs that don't pay well but require long hours and regularly expose employees to danger.
The issue was one of many that Sheriff Ken McGovern weighed in on at the National Sheriffs' Association Conference and Exhibition, which he attended last week in Salt Lake City.
"We want to get the people as fast as we can, but we want to hire the quality people and the right people for us," McGovern said.
Finding those people can be a challenge, said Jen Carlson, a Douglas County corrections officer.
"One of the things here is it takes a special breed of person to do what we do," Carlson said. "You get to see the worst sides of human nature, and a lot of people, I think, don't have the stomach for that."
Since January, three officers have left the jail. Seven new officers are in training, said Lt. Dave Dillon, who oversees the facility's operations. When those officers come on the job at the end of August, staffing levels should return to normal.
Difficult timing
"It's coming at the wrong time of year," Dillon said. "We still need to keep in mind that people need (time) off; they need to get away."
During summer, the jail does its best to accommodate jailers' vacation requests, Dillon said, with typically no more than two to three officers gone from one shift at a time. The jail usually has 12 officers on duty during its day shift and about 10 at night. Days are broken into two 12-hour shifts, and overtime is available on both a voluntary and mandatory basis.
"When it gets down to three, four days before that (next) month starts, then I have one of the sergeants who does the scheduling assign the mandatory (overtime)," Dillon said.
Citing security concerns, Dillon and McGovern declined to state the jail's required guard-to-inmate ratio. The facility has a capacity of about 150 inmates, and prisoners are farmed out to other counties when the jail population exceeds that.
In 2004, the average inmate population was 150, but that number has increased each year since. So far this year, an average of 30 inmates are housed elsewhere, Dillon said.
"The reality is, we're going to have overtime," McGovern said. "Whether it's training, whether it's court time, whether it's people sick or something like that : in law enforcement, it's necessary."
Not alone
Neighboring Franklin County is short three jailers. The jail there has a capacity of 46 prisoners and has 12 corrections officers and one jail administrator who also does shift work, said Franklin County Sheriff Craig Davis.
"We've been dramatically short for several years," Davis said. "It bothers me that Douglas County is having a shortage, because I know they pay better than we do."
Several people have applied for the Franklin County jobs, and Davis said he hopes to add two to four more positions to the county's budget next year.
Leavenworth County is short about seven positions, said Leonard Ayres, spokesman for the sheriff's office there. In Oskaloosa, the Jefferson County Jail employs 12 full-time corrections officers and is currently at full staff, according to Capt. Tim Byers.
The Johnson County Jail is also currently at full staff, which the sheriff's department there credits to new recruiting tactics.
Last year, the department hired a firm to create a recruiting DVD that was provided to all applicants. It also has aired as a TV commercial. The department is also running radio advertisements and posting fliers at Kauffman Stadium, movie theaters and even in public restrooms.
"Normally in a good year, we'll have to replace 40 officers," said Johnson County Deputy Sheriff Tom Erickson. "We're having the same troubles that everyone is having in recruiting, so we decided to take a proactive approach."
McGovern said that in addition to recruiting at fairs, military installations and law enforcement expos, Douglas County might take a lesson from Johnson County's recruiting campaign.
"Some people understand the long hours and the different shifts, then they try it, and it becomes an issue with the family and they move on," McGovern said.
"I totally understand that. Raising my family, it was hard to get to school functions : and trying to work your schedule around (events). People don't understand that unless you get on this side of the fence."
Copyright 2017 The Lawrence Journal-World. All rights reserved. This material may not be published, broadcast, rewritten or redistributed. We strive to uphold our values for every story published.