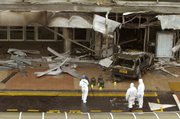 London — British police arrested a fifth person Sunday and raided homes in three cities in connection with attempted car bombings that officials say are connected to al-Qaida.
Prime Minister Gordon Brown, who took over from Tony Blair on Wednesday, said in a nationally televised interview that "we are dealing, in general terms, with people who are associated with al-Qaida."
On Friday, police in London found two Mercedes sedans packed with propane gas, gasoline and nails and said the drivers intended to detonate them and kill as many people as possible. On Saturday in Glasgow, two men crashed a jeep containing propane gas into the main terminal of the Glasgow Airport, setting it on fire. Those two men are in custody.
The driver, who witnesses said tried to immolate himself, suffered severe burns and is in critical condition in a Scottish hospital. Outside that hospital Sunday, police carried out a "controlled explosion" on a suspicious car but did not find explosives.
In addition to the two men involved in the Glasgow attack, a 26-year-old man and a 27-year-old woman were arrested in central England after police in unmarked vehicles forced their car off a major highway. A 26-year-old man was also arrested in Liverpool.
According to new anti-terrorism legislation, police can hold the suspects - if a judge agrees - for as long as 28 days without charge.
Though police have not released details of those in custody, several witnesses at the airport said the men appeared to be of South Asian descent. CNN and Sky News reported late Sunday night that two of the five people in custody were medical doctors. The BBC reported that none were British but came from "various Middle Eastern countries" and that one prime suspect was still at large.
Several Scottish officials, trying to calm a nation unaccustomed to terror attacks, assured people that the men involved in the airport attack were not Scottish.
Scotland's justice secretary, Kenny MacAskill, said the two men involved in the airport attack were not "born and bred here; any suggestion to be made that they are homegrown terrorists is not true."
John Neilson, a senior police official, told a group of Muslims at the Central Mosque in Glasgow: "The people we have in custody came to Scotland a short while ago to seek work. ... These are not your young people."
Bashir Maan, president of Islamic Center in Glasgow who was at the mosque meeting, said in a telephone interview that "the Muslim community was very despondent" over the attacks but relieved that those arrested are not from Scotland.
Maan said there are about 50,000 Muslims in Scotland. "Muslims have very good relationships in Scotland," he said, adding that "nothing like this has happened" there before.
Terrorism analysts said it seemed that the timing and location of the planned attacks were intended to coincide with Brown's first days of office. They also noted that Brown is Scottish.
"That was probably a major factor in this," said M.J. Gohel, chief executive of the Asia-Pacific Foundation, a London think tank that specializes in security issues. "Otherwise, it makes no sense as to why they would pick that particular moment as well as Glasgow as a target."
Gohel said the perpetrators might have been trying to fuel pressure for a rapid withdrawal of British troops from Iraq.
"This was a signal to the new government, a statement of intent and intimidation," he said.
Scottish police, who encouraged the many witnesses at Glasgow Airport to hand over any cell phone and camera images of incident, said they were receiving about 100 calls an hour from the public.
Copyright 2018 The Lawrence Journal-World. All rights reserved. This material may not be published, broadcast, rewritten or redistributed. We strive to uphold our values for every story published.