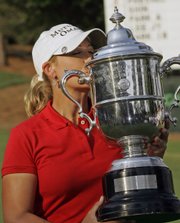 Southern Pines, N.C. — Even with the silver trophy at her side, Cristie Kerr felt uneasy sharing the premonition she had all year about coming to Pine Needles and winning the U.S. Women's Open.
She might not have scripted it quite like this.
With a swing she spent the weekend trying to fix, Kerr played the final 45 holes with only two bogeys. She three-putted only once all week on the treacherous Donald Ross greens by using a putter she purchased at a pro shop in South Korea.
And going head-to-head with the No. 1 player in the world Sunday afternoon, Kerr drilled an 18-foot birdie putt on the 14th hole to take the lead and then watched as Lorena Ochoa made another series of mistakes down the stretch in a major.
"When I stepped on the grounds this week, it was just magic," Kerr said after closing with a 1-under 70 for a two-shot victory over Ochoa and Angela Park to end her 0-for-41 drought in the majors.
"Going head-to-head with Lorena and beating her ... it was special memories. You can't make this stuff up," she said. "These are things you take to the grave and you just smile about."
It was all too familiar for Ochoa.
With a chance to capture her first major and remove any doubt about who's the best in her sport, Ochoa struggled again with a quick swing under pressure and failed to hit a green in regulation over the final five holes.
"It hurts, but I did everything I could," Ochoa said.
The 25-year-old Mexican star closed with a 71 to tie for second with Park.
Copyright 2018 The Associated Press. All rights reserved. This material may not be published, broadcast, rewritten or redistributed. We strive to uphold our values for every story published.