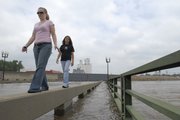 County, city workers help in flooded areas
Several Douglas County and Lawrence city employees were sent Monday to assist southeastern Kansas counties and cities reeling from the weekend's heavy rain and flooding.
Assistant Douglas County Administrator Pam Madl began three days of work in Independence. Joining her there for three days were Sheriff Ken McGovern and sheriff's Lt. Kari Wempe.
Debbie Sparkes, an employee in the county finance office, is working three days in Fredonia.
A total of seven sheriff's officers and Lawrence police officers were sent to work a 12-hour shift in Allen County. Among them was Undersheriff Steve Hornberger.
Ottawa — Record-breaking rainfall over the past several days has chased thousands of Kansans to higher ground, swamped towns and left many remembering the 1951 flood that has been called the state's worst disaster.
"I saw the '51 flood but it was not this bad," said Kay Vogler, 70, of Ottawa as she watched water rush over the U.S. Highway 59 bridge, while floodgates kept it from nearby downtown businesses.
The water has dropped quite a bit since Sunday, Vogler said.
"It's the worst I've ever seen," she said. "But I am so grateful for flood control, because if we did not have the floodgates it would be disastrous."
Some towns were hit hard as rivers peaked after a weekend of historic rainfall amounts that surpassed 20 inches in some areas.
President Bush issued a federal disaster declaration for 18 southeast Kansas counties, including Franklin County.
No flood-related fatalities had been reported as of Monday evening.
In Lawrence, authorities breathed a sigh of relief for having missed much of the deluge, although some were confident that a similar rain event could be contained. There were no reports of flooding in Lawrence.
Lew Ruona, Clinton Lake's project manager for the U.S. Army Corps of Engineers, said the lake was built to handle such a mammoth rain. Clinton was created in the wake of the 1951 flood and opened in 1981.
"The purpose of the lake is that Lawrence would be protected," Ruona said.
Evacuations, spills
In Osawatomie, approximately 20 miles southeast of Ottawa, the swollen Pottawatomie Creek and Marais des Cygnes River near the Kansas-Missouri line forced the evacuation of 40 percent of the town's 4,600 residents.
In Coffeyville, more than 42,000 gallons of crude oil spilled into the Verdigris River from the Coffeyville Resources refinery.
About a third of the homes in Coffeyville and a quarter of homes in Independence were evacuated because oily floodwater was surrounding them. Drinking water for Coffeyville, Independence and Elk City was shut down.
"We're very concerned. It's chemicals mixed with water. The city : is blocked off until water recedes," said Coffeyville Mayor Virgil Horn, whose own house was submerged.
Many water treatment plants have been flooded, prompting emergency officials to issue boil advisories in Independence, Elk City, Fredonia, Neodesha, Longton and 16 rural water districts in Montgomery and Wilson counties.
Franklin County damage
As the floodwaters began to subside, Franklin County leaders tried to survey damage Monday. Flooded roads were starting to open every hour.
"It will be (today) and even into next week before we have a complete idea of the damage we have in the county," said Alan Radcliffe, Franklin County emergency management director.
He said overall damage in the county didn't appear to be as severe as other places, but about 40 to 50 homes, including 10 to 15 in Lane, were evacuated or sustained floodwater damage. No injuries were reported.
In Ottawa, five businesses on the western side of the city sustained damage. Due to the heavy rains that began Wednesday, the Marais de Cygnes River rose to about 41 feet, or about 4 feet below the top of the levee, which caused the city to close the levee's underground gates Saturday.
Then, rain that fell in the city later Saturday was unable to drain into the river. In that situation, the city's pump system kicks in to move new rainwater over the levee and into the river. But because it rained so much, it caused more flooding at low-lying spots, Radcliffe said.
The gates on the Main Street bridge were closed Saturday and kept downtown from any significant flood damage, Radcliffe said.
"Comparing it to a flood, this is probably the worst flood we've had since '51," Radcliffe said.
Ottawa had received about 10 inches of rain since Wednesday, and about 17 inches of rain fell in some parts of southern Franklin County. Emergency management officials are still surveying damage and waiting to hear about federal assistance, Radcliffe said.
Flooded property
"It just stormed really bad and flooded a lot of streets," said Melissa Daniels, of Ottawa. "It flooded my church, Bethany Church, and we had to go pump water out of the church. It was like 3 feet of water.
"When you wade in it, you could feel it push you to the side. It is hard to walk through. All the debris kicks at your feet and you have to pick your feet up to get through the debris."
Della Sandgren, of Ottawa, owns the building with a Dollar General and liquor stores just north of the river and the U.S. 59 bridge.
Sandgren said her parking lot was covered in 6 inches of water. The Dollar General store had about 3 inches of water in it, but it went out on its own, she said.
"Lots of property owners will be clearing brush and muck out of their houses," she said.
Health officials urged residents to stay out of flooded areas due to sewage, hazardous materials and other spills in the water.
High river levels
Rivers in southeast Kansas reached historic levels over the weekend.
The Fall River at Fredonia, Elk River at Elk Falls and Verdigris River at Independence hit their highest river stages since 1945, the Neosho River near Parsons crested at its highest stage since 1951 and the Marais des Cygnes River hit its highest level since gauge operation started in 1959.
"Provisional information indicates that the flood peaks on the Verdigris River, Fall River and Marais des Cygnes River will be greater than the 100-year flood levels, meaning that these floods have a 1 percent chance of occurring in any given year," said Jim Putnam, U.S. Geological Service hydrologist.
Copyright 2018 The Lawrence Journal-World. All rights reserved. This material may not be published, broadcast, rewritten or redistributed. We strive to uphold our values for every story published.