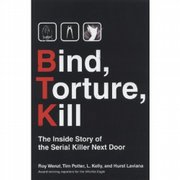 Homicide detectives and newspaper reporters generally mix about as well as oil and water.
But for two years Wichita police detectives and the Wichita Eagle reporters who covered them put aside their adversarial differences and collaborated to tell the story about how a serial killer was caught.
The result is the recently published book, "Bind, Torture, Kill: The Inside Story of the Serial Killer Next Door."
"We did it because the paper honestly wanted, as the police eventually did, a good historical record of what happened, and (one) that was vivid and true," says Roy Wenzl, one of the four Eagle staff members who worked on the book.
In February 2005, Wichita police arrested Dennis Rader, a code inspector in suburban Park City, for a string of killings dating back to 1974 that were attributed to BTK. Rader confessed to the murders and is now in prison for life.
After some cajoling from the Eagle, Police Chief Norman Williams allowed his BTK detectives to talk freely about the details of the case to the newspaper. Wenzl and longtime police reporters Hurst Laviana and Tim Potter, as well as crime team editor L. Kelly, had access to previously unseen police documents. They also used the newspaper's extensive archives.
In addition to Rader, the central figure in the book is homicide commander Lt. Ken Landwehr, who as a young detective worked on an early BTK task force. Landwehr is described as someone whose public persona comes across as stoic and difficult to know.
But he was willing to talk not only about the case but also about his own personal flaws, including hanging out in bars in his younger days. Landwehr's openness about his mistakes and doubts makes him more believable, Wenzl says, noting that Landwehr earned a college degree in history.
"I was telling people that I don't know many police commanders or other public officials who would go along with that, but the fact is he's got guts," Wenzl said. "He understood why I was doing it."
Landwehr and the other BTK detectives reviewed the manuscript for factual errors but did not try to change the slant or focus of the book, Wenzl says.
"I think they were surprised," Wenzl says. "They liked it. They not only liked it, they liked it a lot."
In fact, the book collaboration led to a slightly more personable relationship between the cops and Eagle reporters, Wenzl says. Aside from friendly conversations, though, it's still mostly business as usual.
"If we call them up in the middle of a homicide investigation, they are going to say, 'Hey, I can't talk to you,' which is what they said anyway," Wenzl says.
Rader didn't grant the Eagle's requests to interview him for the book. But he had given other interviews and talked about the murders in court. Wenzl, who early in his career at The Kansas City Star covered cops and courts in Wyandotte and Johnson counties, found Rader similar to many other murderers to whom he's listened and talked.
"They are very egocentric," he says. "They're dull to talk to. It's all about them, and they blame somebody or something else. It was 'Factor X' for Rader, which he said was an entity that took him over."
Some of the money from the book's sales is going to the Law Enforcement Memorial of Sedgwick County. dThe remainder goes to the Eagle, which Wenzl says incurred considerable expense to produce the book published by HarperCollins.
"We were paid our salaries," Wenzl says of the writers. "We're not getting any royalties. It's the Eagle's book, not ours."
Copyright 2018 The Lawrence Journal-World. All rights reserved. This material may not be published, broadcast, rewritten or redistributed. We strive to uphold our values for every story published.