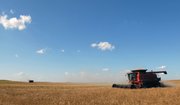 Greensburg — The chain broke on the old 1979 International combine just minutes after it began rolling across ripened wheat fields.
It was the middle of a blistering day. Ki Gamble stood in the freshly cut stubble and tried to fix it.
"I might have a link in the pickup or in the shed if the tornado didn't suck it up," he said, thinking aloud, wondering also if he would have to send his wife to Larned for another parts run.
Despite being in the middle of a wheat field miles from home, it's hard to forget that life changed two months ago - his hometown of Greensburg flattened by an EF5 tornado.
Little things pop up, like needing a part that he can only get an hour or two away. Or seeing a few pieces of Greensburg scattered through his wheat field, including a roll of carpet that rests atop one hill of wheat.
At his farmstead, a quarter-mile north of the city limits, the tornado destroyed grain bins, as well as a shed and barn. The wind blew the windows out of his 100-year-old farmhouse. And he had to dig the International combine out of Greensburg Farm Supply, saying it had too much sentimental value to see it turned into scrap metal.
It was the first combine he purchased when he came back home after college in 1989 to farm full time.
Progress in Greensburg
But Gamble isn't complaining. He's lucky, he said. His house still stands. He knows of farmers who lost their combines as well as their farms.
Yet progress is emerging in his hometown of Greensburg, and Kansas wheat harvest is just one sign.
The local elevator is open for business - the town's tallest building and one of the only landmarks still standing. Besides trucks filled with rubble, wheat trucks have been bustling through town, jingling onto the local co-op's scales.
It's a sign of familiarity - a sign of how life once was, said Danny McLarty, Greensburg's Southern Plains Co-op location manager.
"Agriculture is a big part of the Greensburg economy," McLarty said. "When farmers are worried about getting wheat cut and delivered to town rather than rebuilding houses, they're getting back to some sort of normalcy."
The night of May 4, when the tornado hit, Gamble was planting corn southwest of Greensburg. The weather radio in his tractor gave him news that a tornado was traveling north of Sitka.
"When we got rained out, we headed home," he said.
He and his family watched the television for more news. The last thing he heard before he went to the basement was a meteorologist saying the twister might miss Greensburg.
'We could hear it'
It didn't, first sweeping across the Kiowa County town before hitting his farm at 9:46 p.m.
"We could hear it in Greensburg," he said.
Tales told in the wheat field show others weren't as lucky.
Hired man Andy Porter leaned against a grain cart, trying to get out of the sun as he and the rest of the crew waited for the wheat to dry.
The 25-year-old said it was his six-month wedding anniversary when the tornado hit.
The home the Gambles provide Porter and his wife, Jackie, moved off the foundation. A 2-by-6 piece of wood sticks through their bathroom wall. Glass damaged their furniture, even putting one piece a quarter-inch deep into an end table.
They made it livable for the time being, he said. A new home should be ready sometime next month.
Still, there's hope, said Bob Dixson, one of Gamble's harvest-time helpers. His own home was leveled, but he's rebuilding.
Maybe it will be built in time for Thanksgiving, he said. Maybe it will give optimism to other Greensburg residents picking up the pieces.
Not that there is a typical year in farming, McLarty said, but this year's been a slow harvest.
Generally, harvest in Kiowa County would be in full swing, but rain and foggy mornings have given farmers little time to cut, he said.
Before, it was trying to get debris out of the fields in time for harvest, he said, noting a few farmers have mentioned having flat tires from nails still hidden among the crops and soil.
Debris still scattered
Christian Disaster Relief and schoolchildren, among other volunteers, walked Gamble's fields days after the tornado, removing debris that scattered to fields even 10 miles from town.
But atop the seat of his combine, Gamble can still see pieces of sheet metal and tin. One field south of town has so much debris he may never be able to harvest it again.
"There were two churches in Greensburg that had tin like that on them," Gamble said as he drove over a piece of blue tin.
His 14-year-old son, Kasey, said he picked up a door he found while cutting wheat in one field.
Gamble said he received an industrial arts teaching degree from Fort Hays State University. But farming is all he ever wanted to do. It's where he and his wife are raising Kasey and daughter Katelynn, 11.
"I had a contract in my hand," he said of a teaching job after college. "I interviewed, got the job, then I sent it back. I wanted to farm so bad."
It's also not for the faint of heart, he said, noting this year's harvest went from a bumper one to disappointment.
Prices are excellent, he said. Moreover, the crop, before an Easter-weekend freeze, had the making of a record-breaker.
"The moisture availability we had this spring and late winter, we didn't come anywhere close to meeting the full yield potential with the freeze damage, snow and the disease," he said. "I've never seen such potential in a wheat crop in my lifetime of farming, where it is only a year in a farmer's wildest dreams - the potential to wash away some of the really bad years we've had."
Copyright 2018 The Lawrence Journal-World. All rights reserved. This material may not be published, broadcast, rewritten or redistributed. We strive to uphold our values for every story published.