Photo Gallery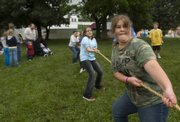 Old Settler's Reunion
Oskaloosa — In the last 106 years, only once has something forced the people of this small farming community about 21 miles northwest of Lawrence to cancel their Old Settlers Reunion. It was called off once during World War II, organizers said.
And with it being one of the oldest continuous celebrations in the Midwest, the town wasn't about to let off-and-on showers rain on its parade this year.
"We've never had this much rain," said Dave Taylor, Oskaloosa Chamber of Commerce president. "It's hurt it, but it's still successful."
"Mother Nature always knows how to put a damper on things," Deanna McCluskey said. "We decided to go home."
McCluskey and her husband came from Leavenworth to sell heating pads and pillows as part of the festival's flea market. For them, the rains and wind were too much to bear.
But the traditional activities of the annual three-day celebration went on as usual, despite the weather. Between 5,000 and 6,000 people were expected to attend this year, Taylor said.
"There's some die-hards," he said.
The celebration is a time for food, fun and stories. Events included parades, games, music and a street dance. It's also a time for family and class reunions.
Sen. Pat Roberts, R-Kan., was scheduled to attend Saturday night's activities, Taylor said. Roberts' great-grandfather founded the state's second oldest newspaper in Oskaloosa 147 years ago.
This year the town celebrated more than just the past. The town's new Cotton O'Neil medical clinic, which opened earlier this year, was dedicated. It will bring expanded X-ray and mammography services to the town.
"This is exactly the kid of economic growth Oskaloosa and Jefferson County needs, if we are to grow and prosper," said Larry Bowser, State Bank of Oskaloosa president.
The festival, which ran Thursday through Saturday, is what holds the community together, Taylor said.
Carissa Allen, 11, threw a water balloon at Nicole Kruse, 12, during an organized water balloon toss on Delaware Street Saturday morning.
The balloon popped all over Nicole, but didn't leave much of a mark because she was already wet from the rain.
"I like it when it's warmer," Carissa said as she shivered beneath her sweatshirt.
"Usually it's a lot better than it is today, because it's not freezing," said Lynn Sparks from underneath her large multicolored umbrella.
She watched as her 7-year-old son, Dayton Morrissey, played with other children outside the courthouse.
"My kids wouldn't miss it," said Sparks, a 22-year resident of Oskaloosa. "It makes memories ... and no matter where they grow up, they're going to remember."
Copyright 2018 The Lawrence Journal-World. All rights reserved. This material may not be published, broadcast, rewritten or redistributed. We strive to uphold our values for every story published.