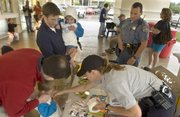 Mark Mehrer knows family and safety go well together, just like the vanilla ice cream and hot fudge served at his store, Sheridan's Frozen Custard, 2030 W. 23rd St.
He incorporated all of those elements at a Safety Day on his store's patio Saturday afternoon.
Mehrer was a police officer for five years in Prairie Village and worked in security for Clarence M. Kelley and Associates Inc. in Lenexa before becoming owner of Sheridan's. He planned the event for three months.
"With the recent Kelsey Smith case, it's a reminder the world is a dangerous place," he said of the 18-year-old woman kidnapped in Overland Park on June 2.
Officers from the Lawrence Police Department assisted with DNA samples for people to keep in their freezers and DNA IDENT-A-KID postcards, both to help families identify missing children. Cpl. Steve Buchholz, with the Douglas County Sheriff's Office, accepted cell phones to be recycled and donated to crime victims and gave out gun locks.
"Too many times kids get ahold of guns," he said.
Todd McCullough, owner of ProShred, parked a shredding truck in front of Sheridan's for people to destroy items such as credit card statements, bills and receipts, all of which are recycled.
"About 20,000 people a day are affected by identify theft," he said. "It takes 350 hours to clear up identity issues."
Self-defense was another component of Safety Day.
Children and trainers from the American Taekwondo Association Black Belt Academy were present to demonstrate moves.
Marissa Dent, of Lawrence, who recently won the ATA state championship for sparring, said everyone should learn the sport for self-defense.
"I think there should be more correlation between women's transitional services and self-defense," she said. "It just makes sense."
Copyright 2018 The Lawrence Journal-World. All rights reserved. This material may not be published, broadcast, rewritten or redistributed. We strive to uphold our values for every story published.