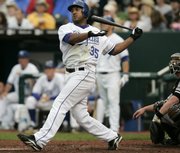 Kansas City, Mo. — It's one of baseball's great ironies, an injustice that has befallen more than one Hall of Famer.
A starter works his heart out. He sweats. He grinds. Inning after grueling inning, he makes quality pitches and gets tough outs. But he finally leaves with the score tied, and then some reliever chucks one or two out of the bullpen and strolls away with the win.
"It all evens out," rookie John Danks said Saturday night after the Chicago White Sox beat Kansas City, 3-1, in 10 innings. "I'm not upset."
Making his 15th major-league start, Danks went a career-best eight innings, giving up only four hits and one run - a solo homer by Emil Brown in the seventh. But the box score will show that the winner was Ryan Bukvich.
Danks threw 96 pitches; Bukvich threw one, retiring Brown on a popup for the last out in the ninth.
Tadahito Iguchi's bases-loaded, two-run single off Octavio Dotel (0-1) in the 10th proved the difference. Bobby Jenks then closed out a night of highly effective White Sox pitching with a 1-2-3 10th for his 21st save in 23 chances.
"That's efficiency," Bukvich (1-0) said with a grin. "After the way Danks pitched, I was wondering if there was a way I could kind of transfer it over to him. He pitched a heck of a game. I come in and throw one pitch and get the 'W.' But the team needs it. We'll take them any way we can get them."
Dotel started the 10th by giving up a pinch single to A.J. Pierzynski and hitting Scott Podsednik, who reached for the fourth time in the game. With two out, Paul Konerko was walked intentionally, loading the bases.
"Our pitchers were really doing well and I really wanted to come through for the pitchers," Iguchi said through an interpreter. "Obviously, their relief pitcher was having control problems. So I was waiting for my pitch. I got what I was looking for."
The loss snapped the Royals' five-game winning streak, their longest in two years, and wasted an outstanding effort by Odalis Perez. He got off to a miserable beginning, walking the first two batters he faced and then giving up an RBI single to Jim Thome. But he wound up going seven innings and allowing only one run and three hits.
"When the other guy is putting zeros on the scoreboard, that's what you have to do, too," Perez said. "I pitched well. I'm going to go home tonight and sleep well."
Danks had given up only three hits and let just one batter get as far as third base until Brown's homer in the seventh tied it 1-all.
He did not sound like someone who felt he'd been cheated out of a win.
"I feel like I backed into my last one," Danks said with a smile. "I didn't pitch well and I happened to get (the win). I'm not worried about my personal win-loss record. Most importantly, we won."
With a run home in the Chicago first and runners at first and second and nobody out, Perez got Paul Konerko to ground into a double play and retired Iguchi on a fly ball. From then until Jimmy Gobble relieved starting the eighth, he allowed only five baserunners, including one who reached on Ross Gload's fielding error at first.
He walked four and struck out three in his sharpest outing since shutting out Oakland on one hit in six innings on May 16.
"He pitched great," said Kansas City manager Buddy Bell. "He was outstanding."
In Danks' only other tough inning, Esteban German singled and went to third on Mark Teahen's single in the fourth. But Brown flied out and Alex Gordon, who had gone 262 at-bats without grounding into a double play, did so for the second time in two nights.
Brown did a bellyflop on the wet grass to make an outstanding running catch of Andy Gonzalez's sinking liner to end the fifth inning. Perez stood on the mound and applauded as Brown got up and trotted in.
Notes: Another day passed with no apparent resolution to the Mark Buerhle contract saga. The left-hander is negotiating for a reported $56 million contract, but could possibly be traded if he doesn't agree to terms by his next scheduled start on Monday. ... The Royals placed 1B Ryan Shealy on the 15-day DL with a hamstring strain and replaced him with Gload, who had been on a rehab assignment and out since mid-May. ... The teams will pay homage to the Negro Leagues today, with Chicago wearing Chicago American-Giants uniforms and the Royals donning the uniforms of the Kansas City Monarchs.
Copyright 2018 The Associated Press. All rights reserved. This material may not be published, broadcast, rewritten or redistributed. We strive to uphold our values for every story published.