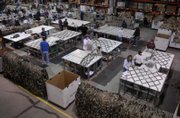 Another five-year contract to make cargo nets for the U.S. Air Force means another 30 workers will be hired at Kinedyne Corp. in Lawrence.
The contract is prompting the New Jersey-based company to add a second shift at its Lawrence production plant, which makes nets, straps and other equipment to secure cargo on trucks, planes and other vehicles.
Making military cargo nets is nothing new for Kinedyne workers in Lawrence. Their heavy-duty nets have been in use since military operations started in Iraq, and an early photo shows a set of nylon nets securing $23 million of stolen U.S. bank notes that had been reclaimed by U.S. forces.
The new contract - which Kinedyne handles through its connections with TAC in Springfield, Ill. - means the Lawrence plant will boost its production from 7,000 nets a month to 11,000 nets per month starting in May, said Terry Albin, operations manager.
And that means moving some experienced employees onto second shift, where they'll be training new sewing machine operators, webbing layout personnel and final inspectors who will be on the job from 3:30 p.m. to midnight.
Kinedyne has other plants, Albin said, but Lawrence was the logical choice for answering the military's call for more nets.
"We have the resources, the ability and the people," Albin said. "We have the experience with the government contract, and it's working well."
The contract will be expected to help boost revenues from the Lawrence plant to an estimated $40 million this year, up from $35 million in 2006.
It also is triggering other changes.
Kinedyne had been leasing a building in the Franklin Business Park to assemble cargo nets as part of the company's existing contract. But with the new deal stretching to five years, Kinedyne leaders decided to consolidate operations and launch the second shift in the main building at East Hills.
The company's existing net production requires about 90 line employees, leaving plenty of room for expansion on the second shift, said Amy Bellerive, human resources manager. Starting with 30 employees on second shift - using a mixture of existing and new employees - will allow for the shift's expansion to as many as 90 employees in the future.
The second shift starts March 5. As the workload picks up in the next few months, Kinedyne will hire employees to "backfill" the existing first-shift spots that were vacated by employees transferring to second shift, Bellerive said.
Kinedyne is hiring employees through the Lawrence office of Manpower Inc.
"We are growing," said Bellerive, who started at the plant in 2002, when Kinedyne had 45 employees in town. "It's a real positive for the community. When other companies are closing down and laying people off, Kinedyne has been able to maintain a sense of continuity in the community."
The company, which recently received a Foundation Award from the Lawrence Chamber of Commerce for its job-creation efforts, also is expanding internationally.
Kinedyne recently purchased a factory in Kunsham, China, which is near Shanghai and employs about 20 workers. The plant makes hardware and straps for cargo systems, parts that previously had been outsourced to other factories overseas, said Dave McClain, Kinedyne's materials manager.
"They're working a couple of shifts themselves," he said. "It's not really taking anything away from what we're doing here. It's adding to what we're doing. We've grown so much it was obvious that we needed some help in certain areas."
Copyright 2018 The Lawrence Journal-World. All rights reserved. This material may not be published, broadcast, rewritten or redistributed. We strive to uphold our values for every story published.