At both his home in Warrensburg, Mo., and here in the architecture department at Kansas University, Kyle Almeida had family.
Back home, he had his real family: His mother, father and sister who, growing up, were often treated to his wry smile, his sharp wit.
Here, he had his architecture family - a family he shared laughs with along with hours of hard work.
Almeida, 23, died early Tuesday in a car wreck just southeast of Lawrence.
"To have such a young life taken from us, it's just a blow," said John Willard, Almeida's former art teacher at Warrensburg High School.
Almeida was ejected from his 1997 Ford Taurus just after 2:30 a.m. Tuesday when he lost control and flipped the car while driving south along East 1600 Road - commonly known as O'Connell Road.
The wreck happened south of North 1300 Road, where the road switches from wide asphalt to narrow gravel.
Lt. Kari Wempe, a spokeswoman for the Douglas County Sheriff's Office, said investigators were looking into several factors that may have contributed to the wreck, including vehicle speed, road conditions and alcohol.
Almeida was not wearing a seat belt, the sheriff's office said.
His passenger, Tim S. Beggs, 26, Lawrence, was wearing a seat belt and suffered only minor injuries. He was treated at the scene and released.
'Devastating' loss
When news of Almeida's death reached his family and friends in Warrensburg, memories came flashing back.
A soccer star at a young age, he helped his team win a state championship in Maryland before his family moved to Warrensburg in 2000.
"That was his sport," said his father, Richard.
In high school in Warrensburg, as he continued to play soccer for his school team, Almeida's artistic ability grew, Willard said - although he wouldn't admit it.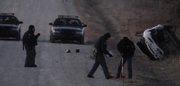 He never would have proclaimed himself a good artist and often apologized for his efforts. But in Willard's advanced art class, Almeida embraced the art no matter what the medium.
"He did his best with it," Willard said. "He made it a positive in his life."
After attending classes and playing soccer at Baker University for two years, Almeida transferred to KU in 2004 and began a demanding courseload in architecture.
"He was always in here working hard," said classmate Kyle Davis. "But he was always happy, laughing, every day."
The close quarters of architecture classes at Marvin Hall made it a second home to Almeida, his friends said.
The hours he spent in studio classes led "to a lasting social, almost familiar bond among students and faculty," said department chair Keith Diaz Moore. "His optimistic, easygoing style let Kyle play an important social role in his cohort, which makes this loss particularly devastating."
Almeida was a senior this year, just weeks into a new semester.
'Pave this road'
The wreck broke the early-morning quiet for several people who live nearby.
Randy Mills thought the "tap, tap, tap" was just water boiling over on the stove.
But there was nothing on the stove's range. Then he saw the young man, standing outside his living room window.
When Mills opened the door, Almeida's passenger, Beggs, told Mills and his wife, Debbie, that he and his buddy had been in a wreck.
Site of the accident on O'Connell Road
"He kept saying he couldn't wake his friend up," Debbie Mills said.
The couple asked if they should call for help. Beggs said they should.
"That's when I knew it was serious," Randy Mills said.
Next door, Terry and Pat Martin woke up thinking their house was on fire. All they could see were swaths of flashing red on their walls from the emergency vehicles.
When Terry Martin went outside to get the paper, he saw the Taurus, flipped on its side, windowless and mangled.
Pat Martin said she's surprised it took this long for a deadly wreck to happen on her street.
"They fly down this road all the time," she said. "Maybe this will get them to pave this road."
The Millses, next door, agreed.
"There's no reason for it to be 45 miles per hour," Debbie Mills said. "(The road) is like a washboard down at the end."
The road, which is owned and maintained by Douglas County, has been an issue since the city paved O'Connell Road to the north, Mills said.
Drivers who don't know how quickly the road narrows and changes from pavement to gravel often are shocked, she said.
Last fall, another car ran off the road and into their fence on the east side of the road, Randy Mills said. Unless the road is paved or the speed limit lowered, neighbors here said they imagined the problems would continue.
The news hurt
Back home, Willard spent Tuesday with the Almeida family. For everyone who knew Almeida, Willard said, the news hurt.
Willard's daughter, Lauren, is close friends with Haley Almeida, Kyle's sister. They had just spent time together over Christmas while Haley was home for winter break.
When Willard picked up his daughter Tuesday at the University of Central Missouri in Warrensburg, she didn't know what to say.
"It's just so unfair" was about all she could manage, Willard said.
Richard Almeida struggled with the words as well.
"If you had kids," he said, speaking for himself and Kyle's mother, Liz Almeida, "it would be pretty much like you expect."
Copyright 2018 The Lawrence Journal-World. All rights reserved. This material may not be published, broadcast, rewritten or redistributed. We strive to uphold our values for every story published.