As Kris Wilson let go of a three-pointer, everyone in the Free State High gym stared at the rotation of the basketball.
The Free State boys basketball team trailed Olathe South by two points with 2.4 seconds left.
Wilson, a junior guard, inbounded the ball to senior guard Nick Devin, who immediately passed it back to Wilson for the potential game-winner. Instead, the shot hit the front side of the rim and bounced off the glass, too far from the radius of the basket.
The missed opportunity resulted in Olathe South's 53-51 victory Tuesday night.
On the Firebirds' final possession, they initially had to drive the length of the court with 3.4 seconds left. Junior Craig Rosenstengle, also a quarterback for the football team, heaved a pigskin-style pass the length of the floor for senior center Christian Ballard. No one gained possession, and Olathe South knocked the pass out-of-bounds near the sideline. As a result, Free State had 2.4 seconds left, inbounding near its own basket.
When Wilson stepped on the court to receive Devin's pass, he had an open look.
"I was supposed to just step in and do what I could and I just shot it," Wilson said. "Unluckily, it didn't go in. I thought it might have gone in, but I just shot it."
With so little time left when Wilson inbounded, Free State coach Chuck Law planned to go for the win.
"With 2.4 (seconds left), there really wasn't enough time for Kris to drive to the basket," Law said. "Kris is a playmaker, so we decided to put the ball in his hands for the last-second shot. He got a great look, but unfortunately, it didn't go in for us."
The Firebirds (6-6) have now lost two games on their home floor by a combined three points. Lawrence High defeated Free State by one Dec. 21.
Photo Gallery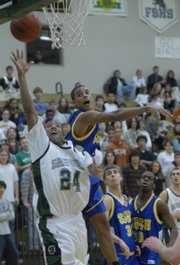 Free State boys vs. Olathe South basketball
"It definitely hurt a little bit more because it's at home," Devin said. "Any loss hurts, but being at home and being a senior, and hoping to defend this place some time, but we've got to start getting our wins and stop getting in these close-game situations."
Of Free State's six losses, four have been within three points.
Wilson and Ballard led the Firebirds with 11 points apiece Tuesday. The Falcons didn't have anyone equal to Ballard's 6-foot-4, 275-pound frame, enabling him to generate jump hooks and layups near the basket. The reason he didn't have considerably more points was because of Olathe South's help defense.
"They really collapse the lane very well," Law said of the Falcons. "It was difficult for us to pound it in there consistently and score. And unfortunately, we don't have the outside shooters to really stretch a defense like they do."
Olathe South's Denver Holmes made Free State stretch its defense from his dual-threat capability. Holmes, who scored a game-high 21 points, made Free State junior forward Weston Wiebe defend on the perimeter. The versatile Wiebe has guarded numerous opposing post players who play on the perimeter this season.
It proved difficult to guard Holmes, who drilled two three-pointers and frequently penetrated down the lane.
Eric Avant came off the bench to score 16 for Olathe South (10-3).
"There really isn't much of a game plan against them because they have so many other guys who can make shots," Law said of Holmes and Avant. "You can't make those guys the focus of your defense. We contested really well, but to their credit, they made a lot of plays."
Free State's offense didn't entirely center around Wilson, but he frequently utilized dribble penetration in scoring his points.
"They were just playing out, and coach told us to set ball screens up top," Wilson said. "I just penetrated off that. If I didn't have anything, I kicked to either Christian or Weston and they finished."
Free State will travel to Shawnee Mission South on Friday, then play host to Shawnee Mission East in a makeup game Saturday.
Copyright 2018 The Lawrence Journal-World. All rights reserved. This material may not be published, broadcast, rewritten or redistributed. We strive to uphold our values for every story published.