Havana — For the first time in three months, images of ailing Cuban leader Fidel Castro were broadcast on state-run television Tuesday night, showing him meeting with close ally and friend Venezuelan President Hugo Chavez.
Looking weak but in better shape than his last video appearance in October, Castro embraced Chavez and smiled as the two leaders reportedly met for two hours Monday to discuss climate change, new bilateral economic accords and other issues.
After taking a sip of juice, Castro reminded Chavez that he had taken a tumble in October 2004 that fractured his knee and arm.
"I hadn't finished rehabilitating when the other one came," Castro told Chavez, referring to the severe stomach ailment that forced the Cuban leader to temporarily cede power in July.
Mumbling, Castro then told Chavez that the fight against his current illness is not "a lost battle."
"It's not a lost battle and it won't be," Chavez responded.
The 10-minute video broadcast Tuesday comes almost six months to the day after Castro announced July 31 that he had undergone emergency surgery and was passing authority to his younger brother, Defense Minister Raul Castro.
Castro has not appeared in public since then and Cuban authorities have only infrequently released photographs and videos of the ailing leader. The last video broadcast on Oct. 28 showed the 80-year-old leader walking stiffly and appearing disoriented.
The October video shocked Cubans and fueled speculation that Castro was near death. Cuban authorities have refused to disclose the nature of Castro's illness but have insisted he does not suffer from a terminal illness.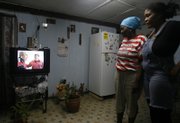 U.S. intelligence chief John Negroponte said last month that Castro had "months, not years" to live.
The negative prognosis appeared to be confirmed early this month by the Spanish newspaper El Pais, which said Castro had three failed operations and was in "grave" condition.
But a Havana-based diplomat who watched Tuesday's video said Castro looked healthier than he did in October. Dressed in a warm-up suit, Castro was seen standing and sitting up and he appeared to have gained some weight.
"It doesn't mean that he can come back to power, but he will be around for a period of time. It could be months or longer," said the diplomat, who asked not to be identified.
"The El Pais article was proven wrong," the diplomat said.
The meeting between Castro and Chavez was not previously disclosed and the video of the encounter was broadcast on the nightly show "The Round Table."
During the video, Castro read aloud a headline from a printout of the online version of the Argentine newspaper Clarin dated Saturday.
The video ends with Chavez telling viewers that Castro is in "good humor, good appearance (and) good state of mind."
The two leaders then recited in unison, "Fatherland or death," Castro's famous revolutionary refrain.
Copyright 2018 The Lawrence Journal-World. All rights reserved. This material may not be published, broadcast, rewritten or redistributed. We strive to uphold our values for every story published.