Robert Hemenway can't imagine a Super Bowl without his favorite dip: guacamole.
"I have never seen a successful Super Bowl without it," the Kansas University chancellor says. "It would be ham without eggs, or Allen Fieldhouse without the alma mater."
With the big game approaching Sunday, we decided to ask Lawrence residents their favorite dip to accompany a football game. Some of our panelists have ties to sports, and others are geared more toward gourmet cooking.
Who knows? You might get an idea for your own Super Bowl party.
Robert Hemenway
Chancellor, Kansas University
Favorite dip: Guacamole
What's in it: Crushed avocado, tomato, a bit of garlic and a touch of onion.
Why he likes it: "The idea is to eat it all at one sitting, because it turns dark in its first 24 hours of life. The latter may be rationalizing the fact that I don't seem to be able to resist it."
Sue Hack
Lawrence city commissioner
Favorite dip: Artichoke dip
What's in it: Artichokes, mayonnaise, Parmesan cheese and other ingredients (see recipe, page 2D).
Why she likes it: "My favorite dip recipe is from my sister-in-law, Dana Hack, in Greenville, S.C. It is something we had at her house and just loved it. I think that we liked it because it was different than the usual Velveeta/Rotel combination that I usually do."
Bonnie Henrickson
Women's basketball coach, KU
Favorite dip: Chili cheese dip
What's in it: One can of Hormel chili with no beans and 1 pound packaged cheese. Microwave for 5 minutes, stirring after 3 minutes. Serve with chips.
Why she likes it: "My mom made it for the four Super Bowls the Minnesota Vikings played in when I was growing up."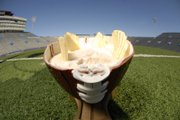 Bob Lisher
Football coach, Free State High School
Favorite dip: Rotel nacho cheese dip
What's in it: Rotel, Velveeta cheese and hamburger
Why he likes it: "It is easy, and it is good."
Lora Wiley
Owner, Au Marche
Favorite dip: Tuscan white bean dip
What's in it: Cannelloni, garlic, lemon juice and other ingredients (see recipe, page XD).
Why she likes it: "This dip tastes great, and it is good for you. My husband and I really like garlic and cumin, so I often add a little more of both than what the recipe calls for. This recipe can be made one day ahead - just put it in the refrigerator tightly covered with a lid or plastic wrap."
Mike Grossner
Football coach, Baker University
Favorite dip: Spinach/artichoke/cheese dip with salsa
What's in it: Spinach, artichoke, white sauce and pepperjack cheese melted on top (see recipe, page XD)
Why he likes it: "It's rich and the cheese just melts in your mouth. The mixture of hot cheese and salsa on top of a scoop chip is out of this world. I'm biased to the artichokes because that was our mascot at Scottsdale (Ariz.) Community College during my playing days."
Kevin Romary
6News sports director
Favorite dip: Salsa
What's in it: Just smooth salsa, no chunks
Why he likes it: "I'm a good old-fashioned salsa man. My favorite comes from Cielito Lindo, just down the street from the Big 6. What makes it even better is you get your own bowl for dipping. Double dip all you want. No one else will care."
Dirk Wedd
Football coach, Lawrence High School
Favorite dip: Layer dip
What's in it: Sour cream, refried beans, avocado mixture (3 mashed avocados, salt, pepper and lemon juice). Topped with grated cheese, green onions and black olives.
Why he likes it: "It can be a meal in itself. It's so good, I bet Tom Keegan (Journal-World sports editor) would get off his diet for it."
Copyright 2018 The Lawrence Journal-World. All rights reserved. This material may not be published, broadcast, rewritten or redistributed. We strive to uphold our values for every story published.