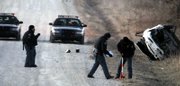 One man was killed and a second man was injured in a rollover accident early today on a county road east of Lawrence.
Kansas University student Kyle Weston Almeida, 23, was killed when he was ejected from a 1997 Ford Taurus in the accident, which occurred around 2:30 a.m. today on East 1600 Road - also known as O'Connell Road, south of Kansas Highway 10.
Almeida, from Warrensburg, Mo., was driving the car and was not wearing a seatbelt. The passenger, Tim S. Beggs, 26, Lawrence, suffered minor injuries and was treated and released at the scene. Beggs was wearing a seatbelt, the Douglas County Sheriff's office said Tuesday.
Officers said the vehicle was heading south on the asphalt and it appeared the driver lost control where the pavement switched from pavement to gravel, rolling over several times.
The car rolled more than once and came to rest just south of the property of Randy and Debbie Mills in the road's west ditch.
KU Chancellor Robert Hemenway said Tuesday that the university would miss Almeida, a senior majoring in architecture.
"On behalf of the entire KU community, I want to express profound sorrow at the tragic death of Kyle Almeida," Hemenway said. "I offer our deepest sympathies to Kyle's family and friends."
The cause of the wreck is still under investigation.
Copyright 2018 The Lawrence Journal-World. All rights reserved. This material may not be published, broadcast, rewritten or redistributed. We strive to uphold our values for every story published.